Manchester United striker Wayne Rooney will be out of action till the New Year due to a knee injury he suffered last weekend.
Manager Alex Ferguson says Rooney suffered the injury while he tried to hit a volley toward the end of training on Tuesday.
Ferguson says Rooney "strained a ligament behind the knee. It's unfortunate, and he could be out for two to three weeks."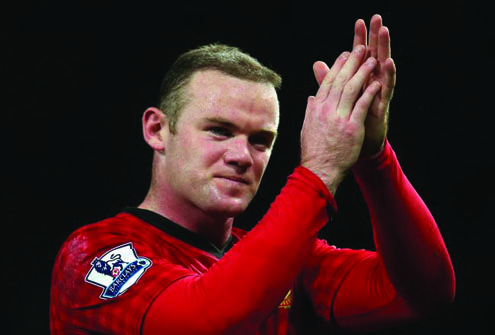 The England international missed United's 4-3 win over Newcastle yesterday.
"It was a volley towards the end of training," said Ferguson. "He did a ligament at the back of his knee and could be out for two to three weeks."
Rooney will miss Premier League matches against West Brom and Wigan, in addition to the FA Cup third round tie at West Ham on 5 January.
He also faces a race against time to face Liverpool at Old Trafford on 13 January.
For Ferguson it was a particularly disappointing given Rooney's poor performance at Swansea on Sunday.
"After his performance on Sunday I think he would have been brilliant. You don't have two performances like he did on Sunday," said Ferguson. "Unfortunately we couldn't risk him."
With Danny Welbeck also missing after taken ill at their hotel on Christmas night, Ferguson is thankful the minor, if unspecified, knocks that kept Young and Jones out of yesterday's Old Trafford thriller should prove to be short term.
"Ashley Young also got injured yesterday and Phil Jones got injured against Swansea," said Ferguson.
"They should both be OK for Saturday, and I will also have Tom Cleverley and Darren Fletcher, who are fresh."

Load more