Sunshine Stars right back, Solomon Kwambe, has expressed confidence he will be on the final 23-man squad to AFCON. In an interview with MTNFootball.com, the defender, who featured in the 2008 Shell Cup for Benue State, also reveals how he fought against his family's wish to become a medical doctor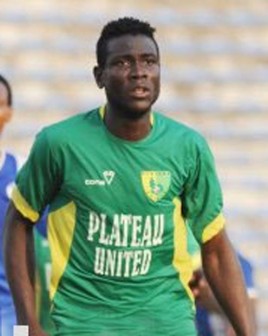 How was it when you got your first invitation to Super Eagles? 
It was like a dream, I couldn't believe it. I was over the moon.
So, how was it when you finally made your Eagles debut? 
I was excited and it was a dream come true for me. And now I hope to keep doing well in the team.
The game against Venezuela made Nigerians to accept you, was that your debut? 
That was not my first game for the Eagles. I debuted against Niger Republic in a friendly in August, but you know that game was not shown on television, like the Venezuela game. It was a good debut all the same. I thank the coaches for giving me a chance in the Eagles. They also gave me the courage to believe in myself, which brought out the best in me. The first half of the game against Venezuela was not good for us, but after coach Stephen Keshi and others spoke to us, the story changed in the second half.
Experienced players have been recalled to the team. Would that not worry you? 
It is good for the team and I am a professional footballer, I fear no player. I am ready to battle any player for the Nations Cup shirt.
What are the other clubs you have played for before Sunshine Stars? 
I started with a grassroots team, Mighty Junior in Gboko, Benue State. From there I joined Plateau United, then to Sunshine Stars.
You featured in this year's CAF Champions League with Sunshine, how was the experience?
That was another good experience and exposure for me. That was my first time of playing on the continent, it was not easy but I later adapted to the situation. It improved my game too.
Who is the player you wish to be like? 
That has to be Sergio Ramos of Spain and Real Madrid. I love his style and determination. He is always ready for business.
And your favourite club? 
I love Arsenal, they play good football.
Did you your parents support your football career?
No, they didn't. My father died while I was young, so my uncle adopted me. He and my older sisters did not want me to play football. Infact, my uncle went as far as telling my principal at the Government Secondary School in Gboko that he should stop me from playing for the school team because I was not in the school to play football but to study. The battle between him and my school principal was at its worst when we were to play the Shell Cup in 2008. He openly warned the principal against having me in the school team.
How did you survive that? 
It was not easy. But because I know what was in me, I kept going. I played in the Shell Cup and we reached the quarter final. I was determined that no matter the threat, I will continue to play the game. And so I thank God today.
What did your family want you to be? 
My family want me to be a medical doctor.
How do they rate your career choice now? 
They are now behind me. They are all happy that I am a footballer today.
Do you see yourself making the Nations Cup squad?
Yes. I have the chance to make the team like every player that has been invited for camping. All I need to do is to show the coaches the reason I should be picked ahead of others. I have been preparing myself for the task because I know it won't be easy. But I believe I will make the team to the Nations Cup with hard work, dedication and determination.

Load more