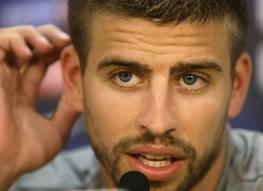 Barcelona defender Gerard Pique irked much the world's media Friday by announcing his girlfriend Colombian pop star Shakira had given birth — but then revealing it was a prank.
Pique, expected to become a father within months, announced on Twitter that Shakira had given birth: "Our boy has already been born! We are very happy! Thank you all for your messages!"
But the message came on the "Day of the Innocents" when people in Spain play practical jokes on each other, and strangely there was no confirmation of the happy news from Shakira.
Later Pique seemed to be letting fans know it was a joke in a second message: "He already has a name! He is called Innocent! Happy Day of the Innocents to all!"
Britain's Daily Mirror said in its online gossip column: "We're not very happy with Gerard Pique today."
The news site said it "got all excited" by Pique's first message. "But don't get carried away like we did," the paper advised readers. "It's all thought to be a big prank."
Spain's leading newspaper El Pais was equally unimpressed, running the headline: "Shakira and Pique are parents… of the worst joke of the year.

Load more