Nigerian Stephen Okechukwu Keshi has experienced glory as a player and gloom as a coach at Africa Cup of Nations tournaments.
The 51-year-old was a centre-back and captain of the national team when they won the Africa Cup for the second and last time at the El Menzah Stadium in Tunis 19 years ago.
Rocked by an early Zambian goal, the Super Eagles fought back to win 2-1 on the back of an Emmanuel Amunike brace and beaming Keshi was presented with the trophy that symbolises African football supremacy.
However, as Keshi prepares Nigeria for a Group C showdown with Ethiopia on Tuesday at Royal Bafokeng Sports Palace in South African mining town Rustenburg, his coaching failures rather than his playing successes will concern him.
Twice before he has taken a country to the Cup of Nations tournament and both Togo (2006) and Mali (2010) were eliminated after the mini-league first phase of the African football showpiece.
Togo lost all three matches in Egypt and Keshi was fired soon after, depriving him of the chance to take the Sparrow Hawks to the 2006 World Cup having successfully steered them through a long, tough series of eliminators.
He had more joy in charge of Mali four years later with a win, a draw and a loss, but after coming from four goals down with 12 minutes left to hold hosts Angola, a loss to Algeria cost them a last-eight place, and the coach his job.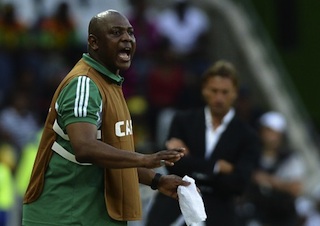 Known as 'Big Boss', Keshi arrived in South Africa this month with Nigeria aware that he was in charge of a country with a remarkably consistent Cup of Nations record — 13 top-three finishes in 16 appearances.
But if Nigeria, who have conceded late goals in 1-1 draws with Burkina Faso and defending champions Zambia, lose to unpredictable Ethiopia they will be eliminated after the first round for only the third time.
It will also mean, sooner or later, that Keshi joins the unemployed coaches' queue having failed a third time to get beyond the first round, and from a mini-league Nigeria and Zambia were expected to dominate.
The coach exudes calmness ahead of a match where a draw might not be enough for Nigeria and if the ghosts of tournaments past are haunting him, he is not letting anyone know.
"I am standing by my players, especially John Obi Mikel after his penalty miss against Zambia. We have all to play for against Ethiopia and my wish is that we build a commanding lead and hold it," he told reporters.
Burkina Faso hot shot Alain Traore levelled four minutes into stoppage time against Nigeria and Zambia goalkeeper Kennedy Mweene converted an 85th-minute spot kick to deprive the Super Eagles of victory.
Back at the Africa Cup after 31 years, Ethiopia are difficult to fathom as they scored with 10 men to hold Zambia 1-1 and then conceded three goals against 10 men to suffer a 4-0 hiding from Burkina Faso.
"We have no choice but to attack, score goals and win," admits coach Sewnet Bishaw, a greying 60-year-old who transformed the perennial Cup of Nations flops into qualifiers.
"The Burkina Faso result was so unexpected and such a disappointment for the thousands of supporters who cheered us on. We will do our best to atone for that loss and should we go out, we wish to do so with dignity."
Ethiopia will qualify by winning — provided Zambia do not defeat Burkina Faso 400 kilometres away in Nelspruit — while a draw or loss means an urgent check of airline flight schedules to Addis Ababa.