Bamidele Olowosagba
Despite beating the Malian national team 4-1 in the semi final of the ongoing Africa Cup of Nations in South Africa, Nigeria Coach, Stephen Keshi said his Super Eagles are not formidable to the standard he is expecting them to be.
Strikers Emmanuel Emenike, Ahmed Musa, Brown Ideye and defender, Elderson Echiejile scored as Nigeria thrashed Eagles of Mali at the Moses Madhiba Stadium in Durban Wednesday evening.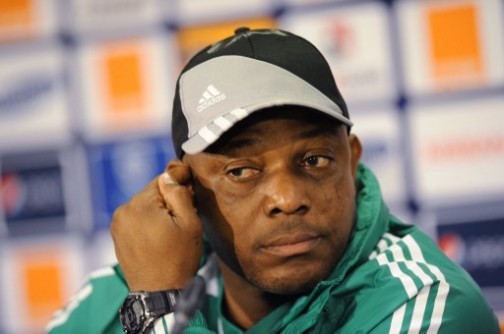 Speaking at the post match conference televised live on SuperSport after the grudge encounter, he said that though he was glad with the fact that Nigeria were able to get to the final after so many trials, the performance of the team was far below the standard of 1994 team in Tunisia.
He noted that Nigerians should not be carried away with the impressive performance put up so far by his team at the 2013 Nations Cup in South Africa, adding that the team still need to put up character and great spirit before they could be compared to the team he captained to the Nations Cup 19 years ago.
"I feel really happy that we have finally qualified for the final and that my players did not disappoint those that believed in them right from the start of the tournament.
"Whatever happens in the final we will take it. I am not God, I can't tell you what will happen on Sunday. This team are just five weeks old and I don't want Nigerians to get carried away with their performance. They are not there yet, I can tell you that."
Commenting on whether he feels vindicated on his team's selection for the tournament after he dropped experienced players such as Osaze Odemwingie and Obafemi Martins, the Big Boss, as Keshi is popularly called by his fans, said: "I know a lot of my people back home were aggrieved when I released my team list some weeks ago. The reason I dropped some players was best known to me. But I can tell you that I chose only players that I know would understand my vision and those that have strong mentality and character.
"There is still room for addition and subtraction in the team. Any player that can add to the strength of the team will be brought into the fold gradually," he said.
Keshi, however, dedicated the victory to all Nigerians, saying that "I always want to put smiles on the faces of all Nigerians back home."
Load more