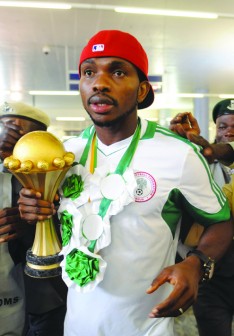 With just five days after the 2013 Africa Cup of Nations in South Africa,  Nigeria is reaping from the gold won by the Super Eagles at the AFCON.
The February edition of the FIFA/Coca-Cola World Ranking is dominated by the CAF Africa Cup of Nations in South Africa. By claiming their third title, Nigeria  have not only ended a 19-year drought since they last won the tournament, but have also climbed 22 places from 52nd position in January to 30th in February – their best ranking since August 2010. On the African continent, Nigeria who are ninth last month are now third in the latest ranking. Beaten finalists at the Nations Cup, Burkina Faso, have moved up a massive 37 places to 55th in the world. Hosts South Africa (60th, up 25) have also enjoyed a significant leap of 25 places.
Although former Africa Cup of Nations winners Côte d'Ivoire (12th, up 2) bowed out at the quarter-final stage, last year's runners-up have achieved their best-ever world ranking (12th). Mali are second in Africa, while Algeria and Tunisia are fourth and fifth respectively.
However, the Elephants have not made it into the top ten in the world, where Spain (1st, unchanged) continue to reign supreme ahead of Germany (2nd, unchanged) and Argentina (3rd, unchanged). England (4th, up 2) complete the top four after their home win over Brazil.
The first matches of the latest round of CONCACAF qualifying matches for the 2014 FIFA World Cup Brazil have resulted in improved rankings for nearly all of the teams involved, with Panama (42nd, up 4), Honduras (51st, up 8), Costa Rica (53rd, up 13) and Jamaica (56th, up 2) all making progress once again. Only the USA (32nd, down 4) have fallen in the ranking. Olympic champions Mexico remain in 15th place despite their goalless draw against Jamaica in the Aztec Stadium. Venezuela (45th, up 10) have returned to the top 50, which now contains all ten CONMEBOL teams.
Monthly Africa football rankings released Thursday by FIFA (Africa ranking, world ranking):
Ivory Coast 1 12
Ghana 2 19
Mali 3 25
Nigeria 4 30
Algeria 5 34
Tunisia 6 42
Zambia 7 47
Central African Republic 8 51
Burkina Faso 9 55
South Africa 10 60
Sierra Leone 11 61
Libya 12 62
Cape Verde Islands 13 63
Togo 14 67
Egypt 15 70
Guinea 16 73
Morocco 17 74
Gabon 18 75
Cameroon 19 79
Senegal 20 82
Uganda 21 84
Democratic Republic of Congo 22 86
Congo Brazzaville 23 91
Benin 24 93
Angola 25 94
Niger 26 97
Zimbabwe 27 100
Sudan 28 104
Equatorial Guinea 29 107
Mozambique 30 112
Malawi 31 113
Ethiopia 32 114
Burundi 33 115
Liberia 34 119
Namibia 35 123
Kenya 36 126
Tanzania 37 127
Botswana 38 128
Rwanda 39 130
Sao Tome e Principe 40 135
Chad 41 140
Gambia 42 145
Lesotho 43 162
Mauritania 44 168
Guinea-Bissau 45 176
Swaziland 46 180
Madagascar 47 181
Mauritius 48 187
Comoros Islands 49 191
Eritrea 50 197
Seychelles 51 197
South Sudan 52 200
Somalia 53 203
Djibouti 54 204
Next rankings: Mar 14

Load more