Controversies trailing the demise of Afro pop singer, Oluwabimpe Susan Filani, popularly known as Goldie Harvey, are as shocking as her death
With the autopsy report signed by Dr. O.O Oyewole of the Department of Pathology and Forensic Medicine, Lagos State University Teaching Hospital and dated 19 February, there is no longer controversy over what killed singer and reality television star, Oluwabimpe Susan Filani, famously known as Goldie Harvey. The autopsy affirmed the singer died of hypertension.
On 14 February, the Nigerian entertainment scene was thrown into turmoil as news made the rounds that Goldie had died just hours after she arrived from Los Angeles, United States where she had gone to experience the 55th edition of the Grammy Awards. Goldie was so full of life and was, indeed, booked for some Valentine's Day shows that night.
She was said to have complained of severe headache at her Parkview Estate, Ikoyi, Lagos residence and was rushed to a private hospital on Victoria Island by her friend, Channel O presenter, Denrele Edun. On arrival, doctors pronounced her dead.
A message on her Facebook page and Twitterhandle, @OluwaGoldie, few hours later confirmed the sad news: "It is with heavy heart that I have to inform you all that Goldie passed on this night shortly after arriving Lagos from LA. May her soul rest in the eternal peace of the Lord – Amin!"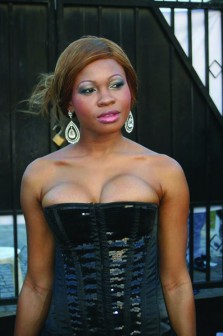 Keke Ogungbe, President, Kennis Music, also released a statement describing the death of his prized artiste as shocking and untimely. "We consider this a gloomy moment for us and the entire Nigerian music industry in view of the circumstance Goldie passed away. There is the abundance of talent she exhibited in her short but eventful music career and the various opportunities her trip to the United States of America would have availed her. We deeply sympathise with her family and fans all over the world," Ogungbe stated.
The cause of her death wasn't immediately clear, but the initial suspicion was pulmonary embolism, (a situation where blood clots occur in the legs after sitting down for too long, especially after a long flight).  Pneumonia was also mentioned. This prompted the autopsy carried out at the Lagos State University Teaching Hospital, Ikeja where her remains were deposited.
Whenever an entertainer passes on, a surge in popularity is usually experienced. Goldie's case was not different. TheNEWS checks revealed that her followers on twitter shot up, just as her Facebook page recorded more ''likes''. ''The frequency of downloads and searches done on Goldie since the announcement of her death showed clearly that Goldie became more popular in death than she was in the Big Brother House," said Ahaoma Kanu, an entertainment journalist. The 31-year old Goldie represented Nigeria last year at the popular TV reality show, Big Brother Africa.
While alive, the Kennis Music artiste was dogged by one controversy or the other. She was either hunted for her choice of costumes, musical videos or her demonstrable opulence from a source that could not be verified.
There were questions over her relationship with fellow Big Brother Stargame housemate, Kenyan-born Prezzo. The buzz was all over that the two would get married soon. However, it was after her death that people got to know that the singer had been living a lie. Two individuals are at the centre of the drama being played out after her death: Andrew and Ifeoma Harvey.
Few days after Goldie's death, Andrew, an Engineer based in Malaysia, came out to mourn the departed singer whom he claimed was legally married to him. He told the world he and the late singer got married in December 2005 at the Ikoyi Marriage Registry and later at the Chapel of Light Church, Alausa, Lagos at a private ceremony attended by close friends and members of both family. The Briton put some emotional messages about Goldie on his Facebook page. "To all my friends, I just want to let you know that my closest and best friend (Susan Goldie Harvey) just passed on tonight…To my bestest friend Susan Goldie Harvey, I will miss you so much!! Am sure the lord has you in his arms tonight!," he wrote.
The following day, Andrew uploaded more than 50 intimate pictures titled "A few pictures of my time with Susan Goldie Harvey before her untimely passing."
Days later, a woman named Ifeoma Harvey surfaced with the claim that Goldie actually stole Andrew from her. Ifeoma claimed via Facebook that unknown to her, Goldie, her one time best friend, had been secretly dating her hubby (Andrew) and waited for a favourable moment to elope with him to Nigeria. "She never knew that one day death would come calling. She rendered that man useless, took all his money and right now Andrew Harvey is lying in the hospital in Malaysia," Ifeoma said.
Andrew has however denied having another wife apart from Goldie.
Creative and boundary-pushing, Goldie worked so hard to etch her name in the sands of time. Many people dismissed her from the beginning as having no talent. But she trudged on.
Among her unfulfilled dreams was the reality show she was planning to roll out in March with her buddy, Denrele Edun. Tagged 'Tru Friendship', the pilot episode has been shot, but her death has put a stop to that.
She emerged on the Nigerian music scene about six years ago and was signed to Kennis Music in 2010. She released her debut album, Gold, in October of that year. It was followed by a couple of provocative and tantalising videos. She won Best Female Video at the 2010 SoundCity Music Video Awards and Best Use of Costume for 'Jawo Jawo' at the Nigerian Music Video Awards. Goldie released three singles on the bounce late last year from her forthcoming 'African Invasion' album. The singles: "Skibo", "Miliki" and " Got To Have It," are presently enjoying good rotation on radio and TV stations across the continent.
Bold, confrontational and seemingly sexually-liberated, Goldie was born on 23 October 1983. She hailed from Ikole in Ekiti State.
—Funsho Arogundade
Load more