Serena Williams has pulled out of the $2,000,000 Dubai Open, partly to consolidate her remarkable return to world number one two days ago by focusing on her home tournament, in Miami, in the second half of next month.
"I am just not well – it's my back," Serena explained. "All athletes really get this.
"I really can't move. It would be a horrible performance for you guys. It's just really sad for all of us. I hope to continue here, but unfortunately it won't be this year."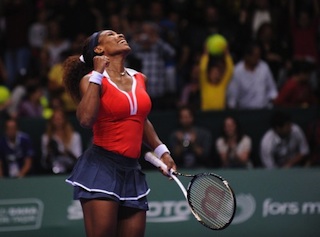 Wednesday's belated and unexpected withdrawal follows that of Victoria Azarenka two days ago, which ensured that Williams would hang on to the top spot at least until the end of the Miami event on March 31st.
Azarenka, who beat Serena to defend her Qatar Open title last Sunday, cited a bruised heel as her reason for pulling out.
Williams competed last week with back and ankle injuries and a bad cold, but said Tuesday that she felt "so much better already," before revealing she would not be appearing.
The 15 times Grand Slam winner also made it clear that having regained the pinnacle after two-and-a-half years during which her life and career were threatened following a freak 2010 foot injury which resulted in a pulmonary embolism it is no longer her main goal.
"OK, I have done it, let's focus on my next goals which are the Grand Slams. I really want to continue doing really well in those," Williams said, admitting that she already had at least half an eye on the French Open in Paris, starting on May 26th.
These absences are a hammer blow to a popular tournament which had already been without the sport's two highest earners, Maria Sharapova and Li Na (according to Forbes magazine), and is now without any of the sport's marquee names.
It is also a blow to the WTA, which has worked hard to introduce incentives and regulations to reduce the number of withdrawals from its tournaments.
Meanwhile, it increases the chances of Agnieszka Radwanska making a successful defence of her title which began with the world number four from Poland making a hard-fought 7-5, 6-3 win over Yulia Putintseva, a highly promising 18-year-old wild card entry who broke serve to lead 4-3 in the first set.
The other front runners appear to be Caroline Wozniacki, the former world number one from Denmark, and Petra Kvitova, the former Wimbledon champion from the Czech republic.
Wozniacki won the title here two years ago, and again seemed comfortable in cool conditions by trouncing Zheng Jie, the former Wimbledon semi-finalist from China, 6-0, 6-1.
She now plays Marion Bartoli, the former Wimbledon finalist from France, who enjoyed her second piece of good luck with her walk-over against Williams.
Bartoli was earlier given a wild card into the tournament after submitting her entry late.
Kvitova, who was in great form last week, coming close to beating Williams, now overcame Ana Ivanovic, the former French Open champion from Serbia, 7-5, 7-6 (7-1), and now plays Radwanska.
Earlier, fourth-seeded Angelique Kerber, the fourth-seeded German who has been struggling with a back injury, was beaten 7-5, 6-1 by Roberta Vinci, the top 20 Italian, who had already accounted for Svetlana Kuznetsova, the former US and French Open champion.
str/cw

Load more