Tope Ogunyemi is a Nigerian wheelchair basketball player that plays for Melbourne, Australia-based Dandenong Rangers. The 38-year old player, who hails from Ekiti state, is currently playing for Team Lagos at the ongoing Ochei Wheelchair Basketball Championship holding at the Indoor Sports Hall of the National Stadium, Surulere, Lagos. He spoke with Bamidele Olowosagba on the state of the sport in Nigeria and other issues
What informed your decision to come back to Nigeria to play wheelchair basketball after over 11 years you spent  abroad?
Actually I came back to the country because of Ochei Wheelchair Basketball Championship. And since December that I've arrived, I have been training with the Lagos State team to prepare for the tourney. I am glad that we have qualified for the final against Delta State. After the championship, I will go back to my club in Australia.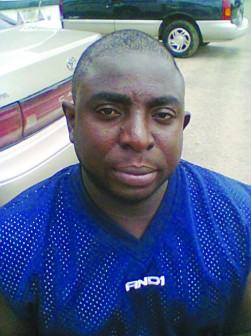 Do you think Team Lagos can defeat the defending champions, Delta State and win the championship?
I have not played against the Delta State team before but I have watched a couple of their matches in this tournament. We are not going to underrate them because I know they have some good players, but I want to assure you that this current Team Lagos are stronger than the team that lost to Delta State last year. Let's wait till tomorrow and we will see who would carry the day.
With your experience outside the country, how will you rate wheelchair basketball in the country?
I must confess to you that wheelchair basketball has improved in this country especially in Lagos State. Though you cannot compare what we have here with what is obtainable in Australia and other advanced countries where there are regular leagues for both men and women's players, since I came back into the country two months ago, I have seen a lot of players, both male and female, coming into the National Stadium in Surulere, Lagos on a daily basis to train. That is a good sign that the interest in the sport has improved unlike some years ago that we hardly saw players to train with when we come to the stadium. I gathered that Delta State is also trying, but it will be better if all the 36 states in the country can emulate Lagos and invest more in wheelchair basketball.
Do you see Nigeria catching up with South Africa in the nearest future?
The gap between us and South Africa is not too wide. In South Africa, there is regular wheelchair basketball league and the sport is well funded. Unlike here that players don't have a wheelchair basketball league. If we can start a league, either national or at the state level, I promise you Nigeria will be number one in Africa.
What is your advice for those in authorities on how to ensure that wheelchair basketball continue to grow in Nigeria?
Like I said earlier, we need to start a wheelchair basketball league in the country for players to be fit. All the 36 states' sports councils need to show interest in wheelchair basketball and create enabling environment for the sport to thrive in their respective states. I commend the Lagos State Wheelchair Basketball Association for doing a lot in that regards especially with the procurement of standard wheelchairs for the players.

Load more