Brazil's President Dilma Rousseff said Saturday that her government will seek to boost energy ties with Nigeria, Africa's top oil producer, after meeting President Goodluck Jonathan in Abuja.
Nigeria is Brazil's main commercial partner in Africa, with bilateral trade soaring from $1.5 billion (1.1 billion euros) in 2002 to $9 billion last year.
Brazil's state-owned oil company Petrobras has invested hundreds of millions of dollars in Nigeria's coal, oil, natural gas and alternative energy sectors.
"Petrobras… has its intention to further expand involvement in Nigeria," Rousseff said after her meeting with Jonathan.
"We also want to establish (a) partnership covering hydroelectricity," she continued.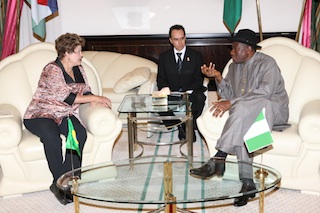 Experts say that Brazil, an emerging economic powerhouse, is looking to resource-rich countries like Nigeria to help sustain growth.
Nigeria is also eager to develop new energy trading partners because growing oil and gas production in the United States, brought about through new technologies like fracking, has begun affecting the market for Nigerian exports, Oil Minister Diezani Alison-Madueke said this week.
The International Energy Agency has said the United States could become the world's biggest oil producer by around 2020, possibly further curbing its need for Nigerian crude.
After meeting Rousseff, Jonathan announced that a bilateral commission had been formed to focus on expanding cooperation in a range of sectors, including energy, mining, infrastructure, food security and finance.
"These are the areas that if we work together we will… create jobs for unemployed young men and woman," Jonathan said.
Despite producing about 2 million barrels of oil per day, Nigeria remains deeply impoverished.
Many analysts have said that along with endemic corruption an excessive focus on oil production at the expense of job generating sectors like agriculture is a key reason why poverty levels have remained so high here.
Rousseff said that Brazil will seek to share "agriculture technology research" with Africa's most populous nation.
"Our two countries hold very key and important positions respectively in our two regions," she said. "Therefore closer ties between Nigeria and Brazil will mean a proper and greater positioning in the international scene."
Rousseff arrived in Nigeria after attending the Africa-South America summit in Equatorial Guinea, also a significant west African oil producer.
Brazil's push into Africa has been characterised by some as part of an effort to solidify its position as emerging power by seeking greater influence in the developing world.
The South American nation is also home to millions of people of African descent.

Load more