TOKUNBO OLAJIDE
Nigeria's President Goodluck Jonathan, Tuesday, finally signed the 2013 Appropriation Bill into law, ending weeks of stand-off between the Executive arm and the National Assembly over the budget estimates.
A statement released, Tuesday evening, by the presidency said President Jonathan appended his signature to the contentious budget after the executive reached a truce with the lawmakers.
"Following consultations and an agreement between the Executive and the Legislature on the 2013 Appropriation Bill, President Goodluck Ebele Jonathan today signed the bill into law.
"…As part of the understanding reached with its leadership, the observations of the executive arm of government about the Appropriation Bill as passed by the National Assembly will be further considered by the National Assembly through legislative action, to ensure effective and smooth implementation of the 2013 Appropriation Act in all aspects," a statement signed by presidential spokesperson, Reuben Abati, read in part.
The budget passage comes more than eight weeks after the Senate and House Representatives unanimously approved a N4.987 trillion estimates against the N4.92 trillion the president forwarded to the lawmakers.
Despite the budget being passed by the National Assembly, in record time, on 20 December, 2012, the presidential assent was delayed due to bickering over differences between the estimates proposed by the executive and the one passed by the legislature.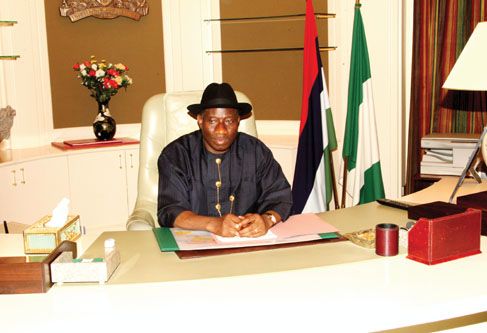 President Jonathan's reluctance in appending his signature to the budget, after it was reportedly forwarded to him on 13 January, forced some lawmakers to threaten to invoke the relevant sections of the constitution to override the president.
The lawmakers had, apart from slightly raising the total budget figure, also increased from $75 to $79, the oil benchmark proposed by the President.
In passing the budget, the lawmakers also declined to provide funds for the Securities and Exchange Commission, SEC, on account of the president's refusal to honour their request to sack Arunma Oteh, the SEC Director-General, with whom they have had a running battle.
In a meeting the president had with the lawmakers for them to shift ground on Oteh and the oil benchmark, the National Assembly leadership did not budge, insisting the two issues were non-negotiable, reason the president stalled in approving the budget.