The former Interior Minister, Captain Emmanuel Iheanacho, has slammed a N90 billion suit on Nigeria Maritime Administration and Safety Agency, NIMASA, and its Director-General, Mr. Patrick Akpobolokemi for unlawful arrest and imprisonment.
Iheanacho is suing alongside his company, Integrated Oil & Gas Limited. Joined as co-defenders are NIMASA's Executive Director in Charge of Maritime, Labour and Cabotage Services, Calistus Nwabueze-Obi and the agency's Head of Public Relations, Hajia Tumaka.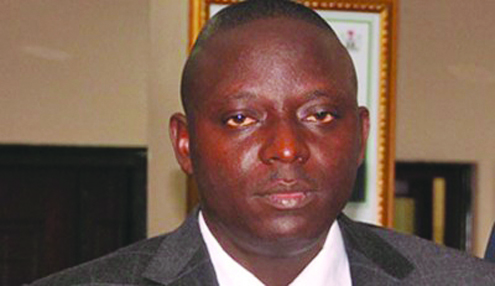 In the first suit filed before a Lagos High Court by Chief Bolaji Ayorinde, SAN, and Chima Emezuruike, on behalf of Heanacho, a retired Merchant Navy Officer, the plaintiff said he his engaging the defendants in the legal battle because of the false accusations levelled against him. He said sometime between 29 August and 28 September last year, NIMASA led at least 30 policemen and invaded his farm at Ibafo, Ogun State on allegation that stolen oil products were being stored in his premises.
Consequently, he was arrested and detained at NIMASA's Search, Rescue and Resource Centre in Kirikiri, Lagos, and later at the State Security Service office at Shangisha.
The former minister further alleged that thereafter, NIMASA's Corporate Affairs Director, Hajia Tumaka, addressed a world press conference and the allegations levelled against him were published in national dailies.
He said the vessel, MT-Grace, which discharged the 3,000 metric tons of diesel oil in his tank farm, was at the request of TDR Ventures Limited, who had the written permission of all relevant authorities to do so.
Iheanacho averred that despite all the written permission to discharge the petroleum product in his tank farm in the presence of all the government agencies, NIMASA's agents came 13 days after and sealed off his tank farm, arrested and detained him along with five of his employes.
The claimant averred that because of this development, he has suffered considerable loss and damage, including drop in revenue and damage to his reputation and that it is now difficult for him and his company to obtain facilities.
In view of this, he's claiming against the defendants, jointly and severally, the sum of N90 billion and public apology in newspapers.
He's also urging the court to order the defendants to retract the negative stories published against him and offer a public apology to him.
—Akin  Kuponiyi