The Chadian army claimed that its troops in northern Mali on Saturday killed Mokhtar Belmokhtar, the one-eyed jihadist commander who led the deadly assault on a gas plant in southern Algeria in January.
"The Chadian forces in Mali completely destroyed the main jihadist base in Adrar of the Ifoghas mountains" at 1200 GMT, an army statement said, adding that several militants were killed "including leader Mokhtar Belmokhtar".
Belmokhtar was branded "the Uncatchable" but the desert fox has now reportedly been killed in northern Mali.
Belmokhtar claimed the spectacular attack in January on the In Amenas gas plant in southern Algeria, in which men from his "Signatories in Blood" group, an Al-Qaeda breakaway, seized hundreds of hostages at an isolated facility operated by British, American and Norwegian oil companies.
The seizure ended in a bloodbath, with 38 hostages killed by the time an Algerian raid ended the crisis.
Branded a terrorist by some, Belmokhtar is seen by others as a common criminal.
He was born in 1972 in the Algerian desert city of Ghardaia.
But in a rare 2007 interview, he said he was drawn away from home by his fascination with the exploits of the mujahedeen combating the Soviet invaders of Afghanistan, whom he joined in 1991 when he was barely 19 years old.
It was in Afghanistan that he claims to have lost his eye when it was hit by shrapnel, and where he had his first contacts with Al-Qaeda.
Now nicknamed Lawar (The One-Eyed), he returned to Algeria in 1993, a year after the government sparked civil war by cancelling an election the Islamic Salvation Front was poised to win.
He joined the Armed Islamic Group (GIA), which conducted a violent campaign of civilian massacres in its battle against the government, sometimes wiping out entire villages.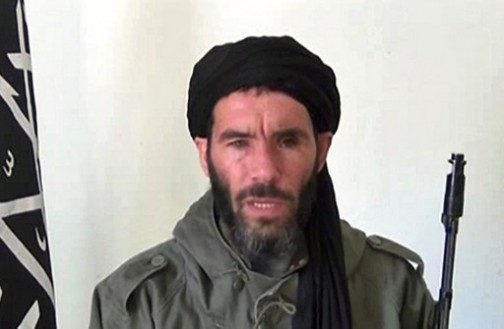 Belmokhtar thrived thanks to his intimate knowledge of the nearly lawless "Grey Zone" of southern Algeria, northern Mali and neighbouring Niger. That success was strengthened by a network of tribal alliances that he cemented through marriage.
In 1998, the Salafist Group for Preaching and Combat (GSPC) broke away from the GIA. Belmokhtar, now also nicknamed "The Uncatchable" by a former French intelligence chief, went with them.
Nine years later, the GSPC formally adopted the jihadist ideology of Osama bin Laden and renamed itself Al-Qaeda in the Islamic Maghreb (AQIM).
These Islamists have spun a tight network across tribal and business lines that stretch across Africa's Sahel region, supporting poor communities and protecting all kinds of traffickers.
They are comfortable operating in harsh desert terrain and have made millions of dollars from the ransoms of European hostages.
Belmokhtar was pushed out as one of AQIM's top two leaders in northern Mali in October for what one regional security official said were his "continued divisive activities despite several warnings."
The precise details are not entirely clear, but his third nickname, 'Mr Marlboro,' could provide a hint.
With a reputation as a smuggling baron — dealing in contraband cigarettes, stolen cars and even drugs, as well as profiting from illegal immigration networks — Belmokhtar's commitment to AQIM's puritanical brand of Islam was questioned by some members of the group.
A Malian official said AQIM supremo Abdelmalek Droukdel had said Belmokhtar had been "dismissed for straying from the right path."
After his ouster from AQIM, Belmokhtar founded Signatories in Blood, which launched the Algerian gas plant attack days after France sent fighter jets, attack helicopters and troops into Mali on January 11.
The group said the attack was to avenge the "humiliation of the Algerian people's honour… by opening Algerian airspace to French planes" operating in Mali.
The report of his death came after Chad's president said Friday that his forces had killed Abou Zeid, the top AQIM commander in Mali, a few days earlier.
If the two deaths are confirmed, the French-led military coalition will have eliminated the Sahel region's two historical Al-Qaeda leaders and decapitated the jihadist insurgency in Mali.