Seal, full name Henry Olusegun Olumide Adeola Samuel has a new girl friend, after his divorce from the beautiful model, Heidi Klum.
His new girl friend is equally a beautiful actress, Erin Cahill, who recently guest starred on TV's "Red Widow," but cut her teeth in showbiz donning a pink suit and stopping bad guys on "Power Rangers Time Force." from being half of a Hollywood power couple to spending time with … a Power Ranger, reports Omg!.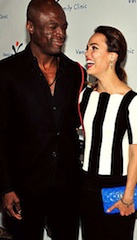 According to Omg!, on multiple occasions this week, the 50-year-old British soul R&B singer has been spotted with his new girl.
The "Kiss From a Rose" crooner looked quite comfortable and happy during a lunch date with Cahill, 33, in Los Angeles on Wednesday.
Seal kept it casual in baggy jeans and a peacoat while the one-time butt-kicking superhero wore a red dress with a peek-a-boo top, ankle boots, and a tan hat. When they parted ways, they embraced.
A day earlier, they were spotted together at a charity event. They were photographed side by side at the Silver Circle Gala at the Four Seasons Hotel in Beverly Hills the night before. Seal had a smile on his face as he looked at her – and Cahill was beaming.
Cahill grew up in Virginia and became involved in pageants at a young age, earning the Miss Virginia Pre-Teen title when she was 11. A decade later she landed her first TV role as Jen Scotts and Pink Time Force Ranger. The following year she appeared on "Power Rangers: Wild Force" as well.
Her character is memorable because she was the leader of the Time Force Rangers, which was a first in the show's history.
She went on to have bit parts in movies and episodic TV work. On "Red Widow," which premieres March 3, she will have a guest-starring role as Felicity.
Seal and wife Heidi Klum shocked celebrity followers in January 2012 when they announced their split after seven years of marriage. The couple, who renewed their wedding vows annually, is parents to four children.
Last summer, Klum began a romantic relationship with her bodyguard, Martin Kirsten, who had worked with the family for years. While Seal has been seen with various women, he has yet to be in a public romance.