Nigeria coach Stephen Keshi has said he will welcome more players who could add quality to his African champions.
Keshi is expected this week to name his squad for a 2014 World Cup qualifier at home to Kenya later this month, but he said he will always be on the lookout for additions to his team.
"We are open to fresh options for the team. We will allow additional good players in the team, those who can contribute positively to the team," Keshi said.
"We will give opportunity to them as Nigerians to come and show what they can contribute to make the team better."
Newcastle United striker Shola Ameobi could therefore be one of such players even though he stayed away from the Nations Cup in preference to his EPL club, but Keshi has already said he missed the big, experienced forward in South Africa.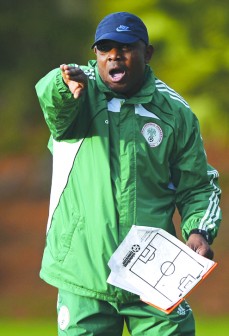 "Honestly speaking, I missed Shola Ameobi at the Nations Cup. In the game against Venezuela, he had a different presence in the locker room, he came in with this coaching ability and togetherness, when he talks to these boys they listen. This was the first time he was coming," said the Eagles coach.
"This was what I was looking for on the pitch, somebody who could talk for me on the field, because I know what I did as a captain on the pitch.
"He was really, really ready to come, but what was on his contract denied him from coming."
Other likely stars on the Eagles radar would be Inter Milan midfielder Joel Obi, who was ruled out of the Nations Cup as a result of a long-term muscle injury, as well as Everton striker Victor Anichebe, who has also been battling injuries.
Nigeria are also processing the nationality switch of Bayer Leverkusen winger Sidney Sam.