Supporters of President Hugo Chavez prayed and wept in his hospital's chapel Tuesday after learning the cancer-stricken leader's condition has worsened, plunging Venezuela into an uncertain future.
The once omnipresent face of the Latin American left, now breathing with the aid of a tracheal tube, has neither emerged nor spoken in public in almost three months, leaving the oil-rich nation and the region on tenterhooks.
"I came to pray because the news were shocking and we have to face it by not losing faith and hope," said Marta Rodriguez, 50, a housewife who was among 50 people in the Caracas military hospital's "Chapel of Hope" that was inaugurated for Chavez last Friday.
"I ask God for a miracle for the president to get healthy, for him to get out of this difficult situation. The president is a very special person," she said, as others in the chapel held pictures of the 58-year-old leader.
After saying over the weekend that Chavez was still working despite chemotherapy, the government announced late Monday that he had a "new and severe infection" and a "worsening of respiratory function."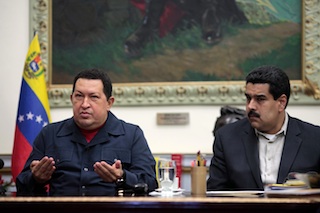 Information Minister Ernesto Villegas, reading a statement from the hospital, did not specify the type of infection nor did he give a prognosis, leaving open the question of whether Chavez will ever resume his duties.
Saying Chavez continues to "cling to Christ and life," Villegas reiterated that he was undergoing "intensive chemotherapy, as well as complementary treatments" and that his "condition continues to be very delicate."
The government had said earlier this month that Chavez was still suffering from a respiratory infection that he had contracted following his December 11 surgery in Cuba.
The somber government statement came two weeks after Chavez checked into the military hospital on February 18 following two months of treatment in Cuba.
Chavez's prolonged absence — which prevented him from being sworn in to a new six-year term earlier this year — has angered the opposition, which accuses the government of lying about his condition.
Under the constitution, an election must be called within 30 days if the president is incapacitated. Chavez urged Venezuelans to vote for Vice President Nicolas Maduro, 50, if he is unable to return.
A group of lawyers said they were going to ask the Supreme Court to name a medical panel to assess whether Chavez is fit to stay in power or if elections are needed — a request that the justices rejected before.
"This situation of uncertainty and anarchy must be resolved to prevent the country from entering a critical political and institutional situation," former Supreme Court justice Roman Jose Duque told reporters.
Maduro and other senior officials have lashed out at the opposition and rumors that Chavez may be dead or dying, saying it is all part of a campaign to destabilize the nation.
Officials have released only a set of photos showing him in his Havana hospital bed, smiling with two daughters, on February 15, three days before his homecoming. The scarcity of images has fueled the rumors.
Villegas said the government "rejects the hypocritical attitude of Hugo Chavez's historical enemies, who have always shown him hate, insults and contempt, and who are now using his health situation as an excuse to destabilize Venezuela."
A few hours before the statement, state-run television showed the presidential guard inaugurating a new tank squadron, with General Jose Ornellas, the head of the armed forces, declaring: "With Chavez everything, without Chavez nothing."
Officials and relatives, meanwhile, sent messages of support on Twitter.
One of Chavez's daughters, Maria Gabriela, thanked supporters on Twitter, writing: "All my love to you! We continue to cling to God! Thanks for the messages of solidarity!"
The government has sent mixed messages about Chavez's condition, saying last week that he was still suffering from respiratory problems before declaring the next day that he had held a five-hour meeting with aides.
The government has never disclosed the exact nature, location or severity of the cancer, saying only that it was in the pelvic region.
Maduro revealed for the first time Friday that Chavez began receiving a tough new round of chemotherapy in Cuba, and that the ailing leader had decided to continue the treatment in Caracas.
He added that Chavez was "in good spirits" while fighting for his life, and that he was issuing written policy instructions.
Chavez was re-elected to a six-year term in October but was unable to attend his January 10 inauguration. The Supreme Court approved the swearing-in ceremony's indefinite delay.
"Comandante Chavez continues to cling to Christ and life, conscious of the difficulties that he is facing and strictly following the program designed by the medical team," Villegas said. "Long live Chavez!"