Abiodun Onafuye/Abeokuta
The House of Assembly in Abeokuta, the capital of the western Nigerian state of Ogun was thrown into pandemonium today after the suspension of four members for allegedly causing disaffection among staff of the assembly and making the assembly ungovernable, among other grave allegations levelled against them.
The four members are Remmy Hassan, Adijat Adeleye, Job Akintan and John Obafemi.
Thereafter, hell was let loose.
Many people, including journalists, were teargassed and the mace was broken following the commotion that ensued.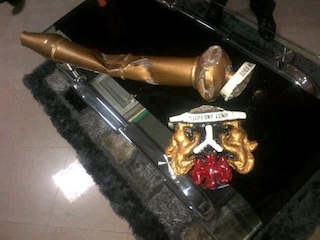 The Ogun State Chairman of the Nigeria Union of Journalists, NUJ, Kehinde Akinyemi, was manhandled while he was trying to get across to the Speaker after the four lawmakers were suspended.
Specifically, Adijat was accused of causing disaffection among staff of the House of Assembly and trying to make the Assembly ungovernable for the leadership of the house.
She was accused of challenging the authority of the Speaker, Suraju Adekumbi, both verbally and in writing and refusing to give proper account of N24 million being funds allocated for members' foreign trip.
Among other allegations, she was also accused of constantly causing disaffection among members of the house, refusing to declare personal interest in contracts she awarded as Chairman House Service Committee.
She was also accused of bringing the House of Assembly into disrepute by granting interviews to the media where she
intentionally misrepresented facts to the public, walking out of the House sitting on Thursday, 28 February, 2013 in outright disobedience of the authority of the leadership of the house.
Similar offences were levelled against Remmy Hassan, Akintan and Obafemi.
The suspended members, however, turned around and suspended the Speaker, Adekumbi and four other members.
They accused the Speaker of corruption and high handedness.