Venezuelan leader Hugo Chavez, 58, died Tuesday, Vice President Nicolas Maduro announced, shortly after Caracas revealed that the cancer-stricken leftist icon was suffering from a severe infection.
"We have received the hardest and most tragic news that… comandante President Hugo Chavez died today at 4:25 pm," Maduro said on state television, fighting back tears.
He said the government had deployed the armed forces and police "to accompany and protect our people and guarantee the peace."
Venezuela, still divided after an acrimonious election in October last year, declared a week of national mourning, and a senior minister said a new poll would be called within what are sure to be 30 tense days.
Foreign Minister Elias Jaua said 58-year-old Chavez's hand-picked successor Maduro would take over as interim leader pending the next election, declaring: "It is the mandate that comandante President Hugo Chavez gave us."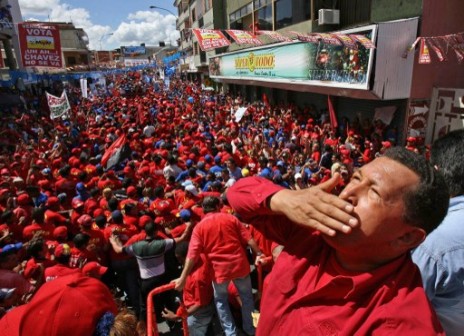 Hundreds of Chavez supporters crowded in front of the military hospital where he died, weeping and chanting "We are all Chavez!" and "Chavez lives!" as soldiers guarded the gate.
"He was a man who taught us to love our fatherland," said 40-year-old municipal worker Francis Izquierdo. "The comandante is physically gone but he remains in our hearts and we must continue building the fatherland."
Chavez passage also plunged many Latin America nations into mourning, with the country Chavez loved taunting, the United States expressing hope his passing would lead to improved relations with the oil-rich state.
Chavez, the former paratrooper had ruled the oil rich country for 14 years, winning re-election last year.
The charismatic leader was the standard-bearer of Latin America's "anti-imperialist" left.
Ideological allies across the region lined up to salute Chavez, with Cuba leading the plaudits to a man hailed as a "true son" to the communist nation's retired 86-year-old revolutionary icon Fidel Castro.
Cuban officials declared three days of national mourning in honor of the country's closest regional ally and main economic benefactor.
In a statement broadcast on state television, the Cuban government said Chavez had "stood by Fidel (Castro) like a true son" during his presidency.
Brazilian President Dilma Rousseff hailed Chavez as a "great Latin American."
"We recognize a great leader, an irreparable loss and above all a friend of Brazil, a friend of the Brazilian people," Rousseff said.
Bolivia's socialist President Evo Morales — whose political priorities and style of leadership have drawn deeply from Chavez — said he was "crushed" by his friend's death and would soon travel to Venezuela.
"We are in pain," Morales added.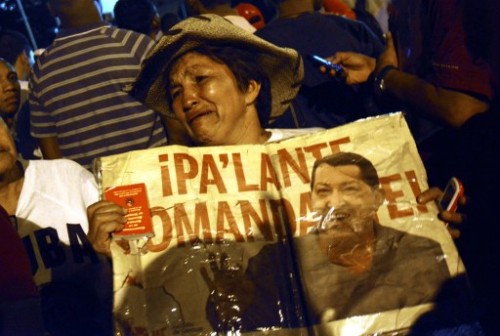 Ecuador's leftist President Rafael Correa, another close ally, said Chavez's death was an "irreparable loss" for Latin America, saying Venezuelans would proudly carry on his legacy.
In Argentina, Vice President Amado Boudou said on Twitter that "all of Latin America" was in mourning.
"One of the best has left us: you will always be with us, Comandante," Boudou said. Argentina's President Cristina Kirchner is to travel to Venezuela for Chavez's memorial service.
Colombian President Juan Manuel Santos echoed Correa's sentiments, saying Chavez's death was "a great loss for Venezuela and the region, for Colombia and for me personally."
Uruguay's President Jose Mujica, a leftist and close friend of Chavez, issued a heartfelt tribute.
"You are always saddened by a death," said the 77-year-old, who confirmed he will travel to Venezuela to pay his respects.
"But when you are talking about someone who has fought on the front line, and about someone who I remember I once called 'the most generous leader I have met', well the pain takes on a whole new dimension."
Chilean President Sebastian Pinera, a conservative billionaire, called Chavez a leader who was "deeply committed to Latin America's integration."
It was a view shared by Honduras President Porfirio Lobo, who lamented the loss of a "leader who fought for the integration of Latin America."
El Salvador President Mauricio Funes also offered condolences, expressing "deep regret at the loss of this great leader."
While Latin America offered many of the most anguished tributes, there was a more measured response from the United States, whom Chavez had delighted in antagonizing during his years in office.
"At this challenging time of President Hugo Chavez's passing, the United States reaffirms its support for the Venezuelan people and its interest in developing a constructive relationship with the Venezuelan government," President Barack Obama said.
"As Venezuela begins a new chapter in its history, the United States remains committed to policies that promote democratic principles, the rule of law, and respect for human rights," Obama said in a short written statement.
UN Secretary General Ban Ki-moon paid tribute Chavez's work on behalf of his country's poor and his support of Colombia's peace process.
"President Chavez spoke to the challenges and aspirations of the most vulnerable Venezuelans," Ban said.
French President Francois Hollande meanwhile praised Chavez's determination "to fight for justice," saying he had "profoundly marked his country's history."
In London, British Foreign Secretary William Hague said he was "saddened" by the death, saying Chavez had left a "lasting impression" on his people.