The proposed international friendly between Nigeria's Super Eagles and El Tri of Mexico which will come up on 31 May in Houston, Texas, USA has begun to generate interest among fans of the Mexican team as they believe the cracker would be a crowd puller.
The friendly game will be played two weeks before the two nations participate in the prestigious Confederations Cup in Brazil.
Considering Mexico is likely to bring an A-team as El Tri plays their final tune-up ahead of two World Cup qualifiers before heading off to the showcase international tournament of the summer in Brazil, the match against Nigeria's Eagles arguably could be the biggest international friendly in the history of soccer in Houston.
"These are two great teams," Texans president Jamey Rootes, a former Division I soccer captain told Houston Chronicle. "Both of these teams are in the throes of World Cup qualifying. This is a very important match in terms of preparation for the Confederations Cup."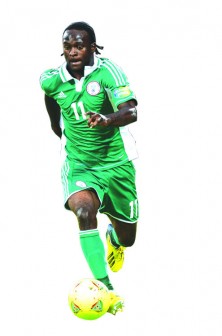 Mexico have some of the biggest North American soccer stars playing in Europe at the moment, including Manchester United's Javier "El Chicharito" Hernandez, Mallorca's Gio Dos Santos, Valencia's Andres Guardado and Real Sociedad's Carlos Vela, who has declined recent invites to El Tri.
Nigeria also have some Europe-based stars, including Victor Moses and John Mikel Obi of the English Premier League's Chelsea.
"I would anticipate a capacity crowd, given the quality of the two teams and the likelihood that they'll be fielding their strongest teams possible," Rootes said. "If you add the fact that this is Mexico's 13th visit to Reliant and they've always drawn great crowds regardless of opponent and add Nigeria, it adds up to a whole new level for the fan base," Rootes said.
A crowd of 70,099 attended El Tri's match against Angola in 2010. It's fair to say Angola isn't nearly as big of a draw as Nigeria, which won the 2013 African Cup of Nations last month.
The box office appeal for the Nigeria-El Tri match likely will rate up there with the two thrilling ties between Mexico and the U.S. in previous sellout matches at Reliant Stadium.
Even Dynamo all-time leading scorer Brian Ching, one of Mexico's fiercest rivals in the last decade, is happy to see El Tri return to Houston.
"I think it's exciting," said Ching, a former U.S. national team star who played El Tri in Chicago, Mexico's Azteca Stadium, New York and Columbus, Ohio, during his international career. "Any time Mexico comes to Houston, they get a huge supporting crowd."
Only 12,115 showed up at BBVA Compass Stadium to watch El Tri beat Guyana 5-0 on Oct. 12 in Mexico's last match in Houston. That World Cup qualifier landed in Houston with less than a month's notice. And many fans stayed away because ticket prices started at $70.
Conversely, tickets for the Nigeria-Mexico match will start at $30 through Ticketmaster and area Fiesta stores, beginning at 9 a.m. Monday.
Officials of Nigeria Football Federation, NFF are also looking forward to the friendly with high expectations. "We are pleased that the reigning African champions will have such a high-quality final preparation for the important games that we have in the month of June," said NFF's scribe, Musa Amadu. The last time the two countries met was in another friendly in Chihuahua, Mexico in October 2007. The game ended in a 2-2 draw.
Load more