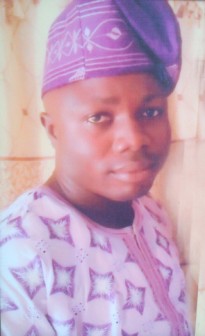 Businessman Ademola Adedeji, who died in police custody only 16 hours after he was arrested in Lagos, Southwest Nigeria, was buried on Thursday, more than a year after the controversial death.
Adedeji was a major food distributor for Rite Foods Limited, a company with headquarters at Opebi Bus Stop in Ikeja, Lagos, and was owing the company when police detained him on 9 February 2012.
Officers had been called by Rite Foods Limited to arrest Adedeji on the allegation that he had issued dud cheques to the company to settle the debt, an allegation the family has vehemently denied.
He was arrested in the premises of Rite Foods Limited after another business transaction and had already loaded his truck with goods and was about leaving when the cops arrived and dragged him to Area F Police Command in Ikeja.
At the Police Command, he was joined by his wife, Cecilia Adedeji in the evening of 9 February 2012.
Cecilia later told investigators that her husband was asked to pay N1 million bail that night to be released and it was while she was trying to raise money for his bail that Ademola died mysteriously in police custody late in the night.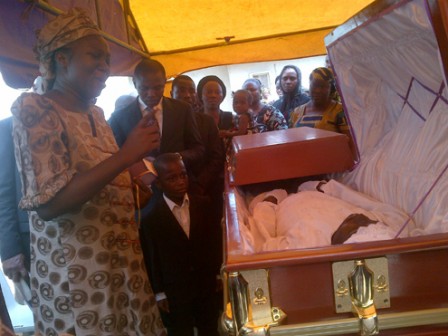 Dr. Francis Adedayo Faduyile, an anatomy pathologist at the Department of Forensic Medicine at the Lagos State University Teaching Hospital, LASUTH, who supervised a post mortem  on the deceased, concluded that Adedeji died of asphyxia.
Faduyile said the autopsy revealed abrasion on the back of the patient and marked fluidity of blood which is as a result of some form of asphyxiadation.
Asphyxia, Faduyile explained under cross-examination by Adedeji's counsel, Clement Eko, means Adedeji died of suffocation as a result of high congestion and inhalation of irritant gases while in police custody.
Faduyile also testified that during the said autopsy, there was no trace that the deceased had any history of illness.
40-year old Lawrence Ademola Adedeji, was buried in Mowe, Owode Local Government Area of Ogun State, Southwest Nigeria, in his residence.
His wife and three young children wept uncontrollably as the remains of the man they loved so much were being lowered to mother's earth.
The Managing Director of Rites Foods Limited Mr. Seleem Adegunwa and the Nigeria Police Force have always denied any involvement in Adedeji's death.
But Clement Eko, the family's counsel, has maintained that the deceased was murdered and justice will be served.
—Simon Ateba