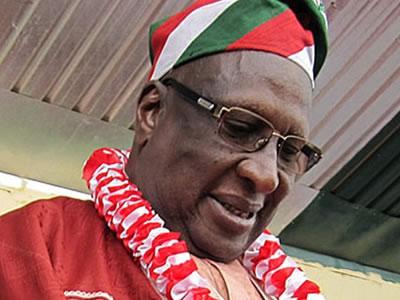 The National Chairman of the Peoples Democratic Party, PDP, Alhaji Bamanga Tukur, has held a closed-door meeting with the Lagos State chapter of the party during his weekend visit, to discuss strategies for winning the 2015 elections.
The meeting with the party's state executives, held at the Dominion Lounge of the Murtala Mohammed Airport, Lagos, southwest Nigeria, had some selected leaders of the party in the state as well as members of the South West Caretaker Committee in attendance.
The party's state chairman, Captain Tunji Shelle, said shortly after the meeting that his party is determined to wrest power from the ruling Action Congress of Nigeria, ACN, in the 2015 gubernatorial elections.
He appealled to aggrieved members of the party to bury their differences and work with the party leadership in winning the state from the ACN.
"We left the meeting with a greater resolve to work as a family so as not to disappoint the people of Lagos who have for so long agitated for a change of government at the state level. Nothing can be more assuring than to know that the Lagos leadership has the support and blessing of its national leaders.
"We appeal to aggrieved members to please come back home. We also welcome people from other political parties willing to join us and we assure that all members, new and old, will be treated with the same love and fairness for which the party is known.
"We wish to re-assure our teeming supporters that the PDP is determined more than ever to take over power in Lagos come 2015 and to ensure grassroots development in all parts of the state," he said.
According to the State Publicity Secretary of the party, Taofeek Gani, "before now, there were speculations that the National Working Committee of the PDP had dissolved the Tunji Shelle-led state executive due to alleged factional interests.
"The National Chairman's visit and the presence of party leaders in the state, like the former Minister for Works, Chief Seye Ogunlewe, has vindicated the state exco that the status quo is intact and that the party remains united in Lagos," he stated.
He further noted that the party had resolved the differences between the various factions which had constantly dogged the state chapter.
Load more