With more tha 75 per cent of the votes cast in Kenya's last Monday election counted, Uhuru Kenyatta leads his main rival, Raila Odinga by more than 500,000 votes.
As of 0915 GMT, Kenyatta had won 4.8 million votes compared to his rival Odinga's 4.3 million, with as many as three-quarters of Kenya's 14.3 million registered voters estimated to have cast a ballot.
A final result could be announced later on Friday, although the Independent Electoral and Boundaries Commission (IEBC) legally has until Monday to announce the outcome of the closely-fought race.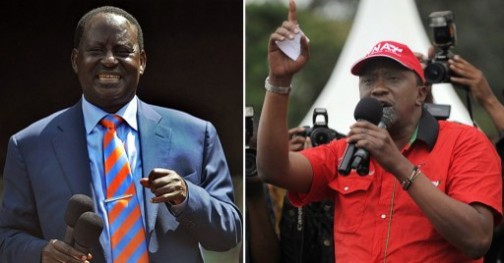 To win outright and avoid a second round, a candidate must win more than half of all votes cast, according to the constitution, as well as at least 25 percent of votes in more than half of all 47 counties.
Four days after the election, the vote count now enters a nail-biting stretch on Friday.
Kenyatta, the deputy prime minister and one of Africa's richest men, faces a crimes against humanity trial in July at the International Criminal Court over the deadly violence that erupted after the contested 2007 elections.
The tallying process — now in its fourth day — has been marred by allegations from both sides, including charges by Odinga's party that results had been "doctored".
Kenyatta's party has also raised concerns over the slow-moving vote count complaining that the inclusion of spoiled ballots in the overall total, which could potentially tip the balance in favour of a second round.
The rigging claims, dismissed by Kenya's electoral commission, have added to tensions in a nation still scarred by the weeks of deadly violence following contested polls five years ago.
Over 1,100 people were killed and hundreds of thousands forced to flee their homes in the 2007-8 bloody ethnic violence that shattered Kenya's image as a beacon of regional stability.
Odinga and Kenyatta — the son of independent Kenya's founding president — have both publicly vowed there will be no repeat of the 2007-2008 bloodshed that broke out over the counting process.
Kenya has been largely calm in recent days apart from isolated incidents of violence.
Deputy Prime Minister Musalia Mudavadi, trailing in third place with some three percent, conceded defeat Friday saying he had "misgivings" about the electoral process, but also appealing to Kenyatta and Odinga to "keep the peace whatever the outcome of the elections".
Odinga also ran for president last time and has always insisted he was robbed of victory in 2007, which went to his main rival Mwai Kibaki, who was backed by Kenyatta.
The vote tallying process has repeatedly come under fire after an expensive electronic system to register and recognise voters — and later to send results — suffered widespread failure.
After tallying had begun, election officials were forced to resort to reading out results hand-delivered by returning officers, with chartered airplanes and helicopters sent to pick up officials from remote regions.
Initial results sent electronically showed that the spoiled ballots made up more than five percent of votes cast, but the numbers dropped from hundreds of thousands to tens of thousands after the electronic system was abandoned.
IEBC chief Ahmed Issack Hassan on Thursday said the dramatic drop was due to an error in the electronic system that had multiplied by eight the number of rejected votes.
High numbers of spoiled ballots greatly added to the number needed for a candidate to break the 50-percent threshold for a first round win, and increasing the prospect of a runoff.
Odinga's running mate Kalonzo Musyoka on Thursday called for a halt to manual vote counting alleging evidence or rigging but gave few details of the claims.
But he stressed that the accusations were "not a call to mass action" and stressed that the party was "committed to the principle of rule of law".
However, Hassan said the electoral commission had seen no evidence of rigging and that was "no room to doctor results whatsoever".