Global peace icon and former statesman Nelson Mandela was hospitalised Saturday for a "scheduled medical check-up", the South African presidency said, months after he underwent treatment for lung infection and gallstones.
"Former president Nelson Mandela was admitted to hospital in Pretoria this afternoon, 9 March 2013, for a scheduled medical checkup to manage the existing conditions in line with his age," said presidential spokesman Mac Maharaj in a statement.
"Doctors are conducting tests and have thus far indicated that there is no cause for any alarm," he added.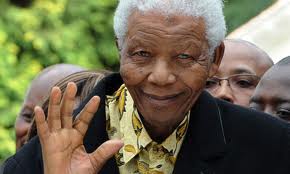 The 94-year-old spent 18 days in hospital in December, when he received treatment for a recurrent lung infection and had surgery to extract gallstones.
The stint was his longest hospital stay since his release from prison in 1990.
He was discharged the day after Christmas and was last known to be convalescing under high care at his home in Johannesburg.
After his discharge doctors said they wanted him to stay in Johannesburg for now to be near the country's top medical facilities.
He retired to his childhood village Qunu a few years ago.
"We appeal for privacy both for the doctors to be able to attend to their patient and for Madiba and his family," said Maharaj, using the Nobel Peace laureate's clan name.
President Jacob Zuma visited Mandela on February 11 before attending the Africa Cup of Nations final in Johannesburg.