Emmanuel Lion Udumezue, a former Nigerian junior international in the Flying Eagles team tutored by Samson Siasia in 2009, has attributed his signing for Stade de Reims FC to the advices David Beckham and Thierry Henry gave him in his brief sojourn at the Major League Soccer, MLS, in the United States.
Lion, as his fondly called by his fans, told P.M.NEWS Sports in a chat that he would have signed for LA Galaxy and Seattle Sounders in MLS, but fortune smiled at him after Beckham told him that the player of his quality should not play in United States at this stage of his career.
"There was this fateful day, I stood close to Beckham in the dressing room after training and he looked at me and told me candidly that a player of my quality should be playing in Europe, I simply smiled. But the message was well delivered. I ended up not signing for LA Galaxy, but I tried my luck at Seattle Sounders where my rare opportunity came" Udumezue said.
The former top scorer in the Moldovan league with 33 goals in the colours of FC Olympia said that while Reims FC were in the United States to play some friendly games, the team played Seattle Sounders twice and on both occasions the French team lost.
"Reims played Seattle Sounders in a friendly game and we defeated them 2-1. I scored the winning goal and gave good   assist for the first goal. The club officials could not fathom how a French team could lose to an unknown club in the United States, so they requested for another friendly after their proposed friendly game with L.A. Galaxy failed to hold.
"Sadly for Reims, but a breakthrough for me, their second game against Seattle Sounders ended in 4-0 whitewashing where I scored a hat-trick, which made the club officials to make enquiries about me. When they discovered I was yet to sign for Seattle Sounders they approached for me and that was how I signed for Reims"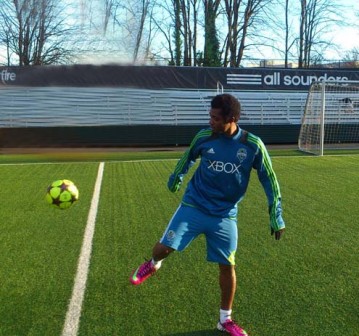 Prior to this time, the skilful striker had helped Seattle Sounders defeated Thierry Henry's New York Red Bulls in a friendly game 2-1 after which the Arsenal legend also told him that he should try and take his football to Europe unlike United States, which is a place for retired legs.
"I also remember the game Seattle Sounders played against New York Red Bulls. We won 2-1 and after the game, I went to meet Thierry Henry to collect his jersey, he asked which country I came from, I told him Nigeria. He nodded his head and said that you are indeed a Nigerian and he also re- echoed what Beckham told me, that I am too young and very talented to play in the MLS, insisting that I should play in central Europe, " Udumezue said.
Stade de Reims are currently placed 17th on the French league log after they lost 4-2 to fellow strugglers, Estac Troyes last Saturday.