Eniola Adeshina, an upcoming Nollywood actress, shares her experience in the Yoruba movie sector with P.M.NEWS NollywoodReel
Why is it difficult for Yoruba actors and actresses to feature in English-speaking films?
To feature in the English movies, you have to know someone who can influence  producers in the sector to give you roles.  Those in the English genre of Nollywood are many and this makes it difficult to get offers to feature in their films. It is not as if we can't do what they are doing.
There's this belief that Yoruba actors cannot translate English roles. How would you react to this?
I don't agree with that. Why do we invite them to speak Yoruba if we think they cannot play roles well? I think the issue is more than that. I can also tell you that Yoruba movies are growing. Take a look at Figurine and you will understand what I mean.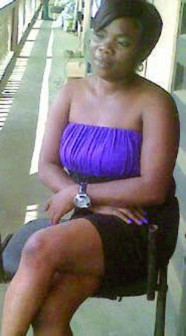 Movie practitioners say you spend less money producing Yoruba movies unlike the English movies. Is this not why the English movies are far ahead?
I believe those that produce or feature in the English  movies help themselves a lot unlike those in the Yoruba movie industry. They also  work with good money. Besides, we rarely get the genuine support of people on location. When I did Arewa Onijogbon for a sister of mine, we paid for virtually everything we used. We rented the equipment and even paid miscreants to use major roads and streets. It is a big challenge for us.
How will you rate the payment for Yoruba actors compared with their English counterparts?
It is not encouraging at all. In our industry, we do a lot of free jobs. For an upcoming actress like me, how many of them will pay? They will just give you the role without paying, and if I don't do it, many other upcoming actresses are there waiting to do it for free. They believe that even if you don't pay upcoming  acts  now, with time people will know them.
Our top actors always use one another for roles based on friendship unlike  the English actors and actresses, who are charged per movie.
But I don't blame those in the Yoruba industry. While a producer in the Yoruba movie sector will  have only N600,000 or so to produce his  movie, his counterpart will have about N5 million for a movie. And the Yoruba producer will need to pay for  about 20 people, equipment, hotel, locations and other things. Money is our problem. There was a day we wanted a bicycle for just one scene and the owner insisted that we pay him before we can use it.
Which has been your toughest job?
It is Arewa Onijogbon. I was the one behind everything. I wrote the story and packaged it myself. It was challenging because I am an upcoming actress and was doing a job many top stars find it  difficult to do.
I invited top actors and actresses, who took part in the movie. To control and direct the actors who are your senior  is not easy. I was less popular and felt so small in their presence. It was just God that saw me through. At the end, I fell really sick. But I'm happy the movie is doing well in the market.
I didn't provide the money for the film, it was a sister of mine who did, but I played the lead role.