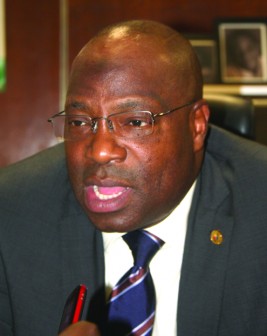 Barrister Waheed Enitan Oshodi is the Commissioner for Youth, Sports and Social Development in Lagos State. The graduate of Engineering from University of Lagos, Akoka and Law in England, was former chairman of Lagos State Table Tennis Association, LSTTA. His reign in the association brought a lot of development to ping pong game in Lagos with the staging of Procold Lagos International Table Tennis Championship and the first-ever table tennis league in Nigeria. In this interview with P.M. NEWS Sports, Oshodi told the success story of the Eko 2012 National Sports Festival, the plans of the government to turn Lagos to a sports tourism destination in the country and other issues
Since January, series of championships have been staged in Lagos State. We had one in table tennis and the just concluded Premier Lotto Lagos Athletics Championship, are we going to be seen tournaments staged every month in Lagos like this in 2013?
It is my prayer that we'll be seeing more of these tournaments as the year progresses. The plan is not rest on our oars from the success of the National Sports Festival we staged last year. We are grateful for what the private sectors are doing for us. Anytime from now, a set of quarterly grassroots games will be rolled out by the 37 sports associations in the state. The next two months will be a busy period for us and the rest of the year will see staging at least 200 events. This year, we want to focus on school sports where we'll concentrate on discovering talents at this level. We are grateful for the support from Governor Babatunde Raji Fashola who personally ensure that we lack nothing as we strive to bring back the lost glory of sports in the state. I want to commend the Office of the Grassroots Sports Development and all the sports associations for a good job done to see that we are on course in our plans for a sustainable sports development in Lagos State.
Is there any plan to carry  private schools along as you focus on school sports this year?
By the time I came into the office, I noticed that there was this dichotomy between public schools and the privately owned schools in the state. While there are talents in the public schools, there are also many good talents in the private schools as well. That is the reason we have been meeting with the owners of these schools to see how best we can maximise the opportunity to carry the private schools along in our programmes. Some of these private schools like the Greenspring have formidable structures for sports in their schools.
Lagos State was able to put together the Eko 2012 Sports Festival within a short period of time with the state-of- the-art facilities and more importantly, the state's team  placed third on the medals table. Was there any secret to this achievement?
There was no big secret for the successful hosting of the National Sports Festival. I think planning, dedication; commitment of the people involved in the organisation of the sports festival made the success a reality. I also think the athletes that represented Lagos did a good job and we  are proud of them. The big support we received from the Governor was another motivation for the success. For the first time, the athletes were given a long term programme of training and camping; a fantastic close camp was organised for them. The athletes were motivated financially and this brought out the best in them. I think coming third at the festival was a big achievement for us and we are forging ahead to surpass this at the next festival in Calabar. The machinery to achieve this is on ground. We were determined to do the right thing by exposing these athletes to training and regular competitions. What gave us the joy was that we won medals in almost all sports we entered for at the festival. We are planning to get stronger in swimming and special sports events in future games. I'm happy to say that the state's teams are doing well in national competitions such as the Ochei Wheelchair tourney recently held in Lagos. I also want to commend Governor of Lagos State, Babatunde Fashola and his deputy governor, Princess Adejoke Orelope Adefulire for their commitment, support and dedication to make the festival a memorable one.
Are you saying that you are satisfied with the third position Lagos won at the last Sports Festival?
Considering our positions in the last three or four festivals, I think the third position Lagos had was a good performance. One prosecuted the games with new young talented athletes and they did excellently well. So we have done very well in all the events. We are strong across board now. We worked very hard. And I think the support Governor Fashola gave to sports has started to materialise. Our plan is a long term one that will see us dominating Nigerian sports in the future, but it has to be gradual.
What is your ministry doing to keep together all athletes that won medals for Lagos at the last National Sports Festival?
Actually, we have mapped out programmes that would keep our athletes busy till the next 2014 National Sports Festival in Calabar. Our target is to organised at least 200 sporting events this year where we will engage our athletes and discover pool of new talents. With about 37 sports association staging quarterly games this year and some few other tournaments coming on board, the target will be met. There is no doubt that at the end of the day, we'll have a pool of new athletes at our disposal. More importantly we'll be staging regular competitions to keep these athletes busy.
With the performance Team Lagos put up at the last National Sports Festival, are we going to see Lagos challenging Delta and Rivers States at the next National Sports Festival?
Lagos will definitely challenge Delta and Rivers States in Calabar. Like I said we have many programmes for our athletes which will ensure that they remain busy throughout the year. We are also bringing in experienced coaches to help train our athletes. Don't forget that it is not only athletes that win tournaments; coaches play crucial part in this process. We are going to train and re-train our coaches for them to deliver what is expected  of them.An experience coach like Lee Evans from America has been contracted to help develop our coaches and training our athletes.
Most of the states used mercenaries at the last National Sports Festival. We got the information that some states went far to bring athletes from Cameroon to feature at the Sports Festival, what is your take on this?
Poaching of athletes or using mercenaries cannot help discover talents. The National Sports Festival was organised to discover fresh talents for the country, but it is sad that some states still engage elite athletes for the festival. Lagos is totally against using mercenaries. And we are not going to be part of the states who love to poach athletes. Like I said earlier, Lagos is committed to grassroots sports development and this really helped us at the last National Sports Festival. We did not achieve our success overnight, but through hardwork day and night and we will not stop discovering talents. We just concluded the Premier Lotto Lagos Athletics Championship for schools and a lot of talents have been discovered. We'll keep on monitoring them.
You just mentioned the Premier Lotto Lagos Athletic Championship, is this part of the developmental programme you were talking about?
We have decided to concentrate on school sports this year where massive talents will be discovered for the future. The Office of the Principal Senior Assistant on Grassroots Sports Development to Governor Fashola is doing its best with the Adopt-A-Talents Programme. The programme has really helped Lagos in the last few years and we have seen the dividend at the last National Sports Festival. I believe the ministry will continue to support school sports and ensure that all the athletes are well motivated.
We observed that after 2012 National Sports Festival in Lagos, almost all the facilities put in place are still in intact, how do you intend to manage these facilities?
(Laughs)  I know that a lot of people will be surprised that the facilities are still there. Don't forget that we have Office of Facility Manager with the responsibilities to oversee the maintenance of these facilities regularly. We don't have problem of maintaining our facilities because we have people on ground to keep eyes on them. I want to commend our officials because they are working round the clock to ensure that the facilities are in good shape for use. Another plan we have to keep these facilities running is that we'll be staging regular tournaments on them.
No Lagos club is in the country's Premier League, what is the government doing in this direction to ensure that Lagosians see their clubs playing in the Premier League in the future?
I always tell people that football will be the parameter to judge sports success in Nigeria.
Our thinking is that running of clubs should be left with the private sector, while the government provides enabling environments for these clubs to excel. My take is that if Lagos goes to buy a club now and in the future the next government is not favourably disposed to sports, this will give the club a big problem. What we are doing now is to give necessary supports to the clubs that are playing in the professional league. We have the City of David, COD team. I'm happy that they are doing well in the league. Every state government cannot own football club. We need to leave football club to private sector and most of the clubs playing in Lagos are owned by one group or individuals. The state government has been supporting COD since the league started.
Governor Fashola has been so generous to the welfare of some Nigerian past heroes in sports with his support to them, what is your ministry doing to compliment the governor's gesture to alleviate the suffering of our stars of yesteryears?
The sports ministry is trying its best for these ex internationals. We have employed some of them to work as coaches. Many are working with the Grassroots Sports Development office as coaches, some in the Sports Council, while the Office of the Head of Service has also been doing a good job to give these past heroes one job or the other. Let me tell you about these ex internationals, we observed that some of them don't have the right qualification to fit into some places that are vacant. The problem of most of our ex internationals today is that most of them don't acquire needed educational qualifications. That is why we are making it loud and clear that any athlete that wants to represent Lagos must go to school. If you go to USA today, you will agree with me that their athletes are educated. American athletes have acquired formal education which helps them in their chosen career. You will see that some of our ex-internationals that went to schools were reaping it today. The likes of Segun Odegbami, Peter Rufai, Adokie Amaesiamaka and a host of others were educated to a level that made them to get to where they are today. They move in and out of different jobs today. I was so proud of what Sunday Oliseh did at the last Africa Cup of Nation in South Africa. I can see that Oliseh is even doing better than sports we knew him of in the past. That is the gains of going to schools. Every sports person should not think that he or she would earn his living in sports and be champions. We want to encourage our athletes to go to schools  while progressing in sports.
It has been long Lagosians enjoyed Super Eagles match in Lagos, is there any plan to bring matches of the Eagles to Lagos?
We are working with Nigeria Football Federation NFF to achieve this but the underline problem now is that we heard that the players said the pitch here is not good for their game. It is ironical to say that most of them playing on this kind of pitch at their various clubs abroad. I want to say that Lagos is interested in hosting one of the Eagles matches sooner than expected. What the officials fail to realise is that Lagos has one of the biggest natural resources to host the match, which is the fans based. Our fear is that even the stadium may not contain the fans if Eagles are brought to Lagos. If NFF is ready we are here for the Eagles.
The House Committee on Sports recently tour some sports facilities at Orile Agege Local Government Development Area. It was discovered that the sports centre at Amoo Street has been taken over by miscreants, what is the ministry doing to fortify these sports centres with adequate security?
We are leaving nothing to chance to ensure that these sports facilities spread across the state are safe. Our plan is to work with various local governments, CDAs and the people in the communities where the facilities are situated. It is a kind of community policing. We want to put in place caretaker committee that will comprise people in the community, CDAs and local council officials where the ministry will supervise and monitor their activities for effective policing of these centres across the state. This is the models we want to adopt to secure these centres.
It was gathered that the future plan of Governor Fashola is to make Lagos a sports tourist destination in the country, how true is this?
There is no doubt that the long term plan of the government is to make Lagos a destination that will attract not only sports men and women but a mega city with modern facilities that will make life worth living for the citizens and the visitors. We have been attracting international visitors to Lagos in the last few years. We hosted the FIFA U-17 World Cup, the Copa Lagos, the annual Governor's Cup Lagos Tennis Championship and we are hoping to stage more international tournaments in table tennis, volleyball and other sports in the nearest future. We want Lagos to compete favourably with cities like Cairo and Johannesburg in the future.
What are the challenges you have been facing since you came into the office?
There are so many challenges. There are so many things we want to do and there are so many events we want to stage which are competing for funds. Most of the programmes we want to execute require money and if we don't have enough funds, we cannot execute all these programmes. Like I said we want to make Lagos a sports tourist destination and if we have enough capital, we want to motivate our athletes so that they can excel in their outings. Let me use this medium to appeal to the media to give us necessary support in order to achieve our aims.

Load more