By Ayodeji Dedeigbo & Oluwasanmi Joseph
The Inspector General of Police, Mohammed Abubakar, Friday visited the Police College in Ikeja, Lagos, southwest Nigeria, to assess the ongoing rehabilitation of the college but barred journalists from covering the visit.
Abubakar arrived the Police College at about 5:30p.m.
Shortly on arrival, he promised to brief the newsmen drawn from various media houses after the exercise, but later shunned them when they tried to speak with him on the state of facilities in the college.
The newsmen were invited to the venue by the Lagos State Police Command Public Relations Officer, Ms Ngozi Braide.
Braide invited the journalists, according to police sources, following an instruction by the commandant of the college.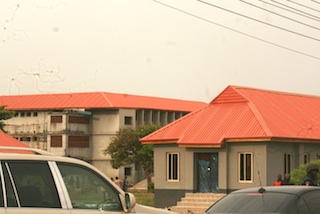 Shortly after the departure of Abubakar, a police officer told the surprised journalists that the police boss specifically instructed that he did not need the presence of the newsmen at the venue.
The decrepit college had become a source of embarrassment to the Federal Government after Channels Television exposed the inhuman condition in which recruits live in the college owing to the poor facilities there.
While the IG was on tour of the college, it was observed that a Nigerian military officer took him round the facilities being upgraded.
He is Brigadier A. O. Shodunnke.
He appears to head a renovation team that has other soldiers on board, as the soldiers were seen giving orders , and releasing building materials to the contractors on site.