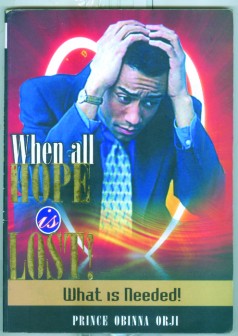 A motivational book by a young writer proffers solution to problems in uncertain times
A dreary economy, famine, advanced cyber warfare and threat of global terrorism, all nibbling at the fragile global peace and security. Besides this is the threat of de-evangelisation of Christendom, drawing religious followership to the lowest ebb since the middle ages. The news about these omens and the enduring near-collapse of the global economy in 2008 has dawn the world to the edge of economic catastrophe. A non-responsive economy elsewhere means that diasporean remittances to third world countries are limited. This problem is profound, yet it is not the only challenge that humanity faces right now. There are individual issues: marriages are crumbling, children no longer adhere to parental charge, prostitution and other social vices are increasing.  Wars and rumours of war, earthquakes and tremors, armed robbery, brigandage, political gangsterism and identity pilfering resulting from Internet insurgence are adding up to the global plague.
So what does the future hold for mankind? These are some of the questions Obinna Orji, musician and motivational writer, provides in When All Hope Is Lost…What is Needed. Divided into ten chapters with an epilogue, the reader is treated to testimonies that can help awaken a drowning soul.  The first chapter centres on the author's testimony, his journey through sin and eventual encounter with salvation through Christ Jesus. He tells the story of how, as a patent medicine seller-in training, he converted some of his boss' wares to his personal use without informing him. This led to an abrupt termination of his contract after about five years without due compensation as stipulated in the agreement. Of course, he became an object of ridicule in the village. He was traumatised and only the discovery of an innate talent and the confession of his guilt brought him hope.
In the next chapter, Orji admonishes his readers to "Hold Unto Their Faith." Using biblical examples and other relevant literature of faith, the author calls on victims of ill-fortune to remain steadfast, trusting in God for deliverance and salvation. He recalls the travails that the Israelites encountered in the wilderness, the challenge that David and his kinsmen received from the Philistines and the death threat that David constantly received from Saul.  He concluded that the dramatis personae in these circumstances did not give up. That is why they triumphed over their adversaries. The author therefore advises his readers to rise up to the occasion once their problems are solved.
The inspiration continues in chapter three, where readers are encouraged not to consider their plight as the worst. Anyone yoked with a problem that appears to defy solutions is prodded to look up to God for direction, support and rescue. The right attitude to cultivate in such circumstances is to approach a problem based on a due divine guidance not self-though out strategies. Orji hinges his advice on the fact that self-help may lead to unquantifiable negative aftermaths. The series of activities to help steer one out of trouble, according to Orji include: stop piling up one's sorrows, develop positive thinking character, building up a fruitful relationship with God and utilize personal endowments as basic problem-solving tools. The prime derivative of building a strong relationship with God manifests by broken yokes of affliction.  The last five chapters of are episodic summaries of the benefits abound in faithfulness to God. There is also emphasis on the need to maintain a personal self-examination procedure aimed at ensuring that a person who wants to achieve success operates within the ambit of God's words.
When All Hope Is Lost… What Is Needed is powerful piece of literature. Its analytical strength is based on the author's ability to draw from real life events to make his point.
—Nkrumah Bankong-Obi