Latest news reports said gunmen suspected to be either militants of the Boko Haram sect or members of a criminal gang have stormed a Nigerian prison in the town of Gwoza and freed 170 inmates.
The raid which happened Thursday night left a civilian casualty dead. He was killed by a stray bullet.
Gwoza is 130 kilometres to Maiduguri, the hotbed of the Boko Haram insurgency.
The gunmen arrived the prison in cars and on motorcycles and opened fire on the prison.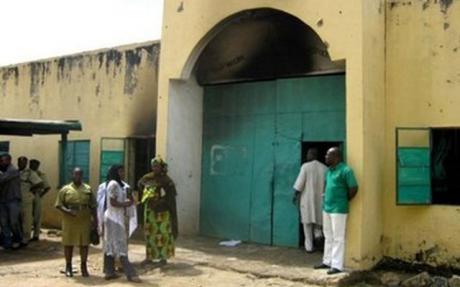 "There was a total of 170 inmates in the prison and all of them were freed by the gunmen who overwhelmed us with their superior fire power," a prison warden involved in the shootout, who requested anonymity, told AFP.
"They set fire to the administrative building but spared the imates' rooms which they broke into and set all of them free," he said.
"A civilian was killed by a stray bullet during the shootout," he added.
Resident Zakari Kyari said the gunmen had taken part in the evening prayer at a nearby mosque before storming the prison.
"Around 7:00 pm just after the prayers the gunmen opened fire on the prison, chanting 'Allahu Akbar' and the wardens returned gunfire which led to a shootout," he said.
Two other residents gave a similar account of the prison raid.
The spokesman for the joint military task force in the area, Sagir Musa, said he was not aware of the attack.
It was not clear if the attackers were members of Boko Haram who have been blamed for scores of attacks in the area, or criminal gangs that also operate in the region.
On March 5, gunmen killed nine people, including two policemen in an overnight raid on a police station in Gwoza.
Nigeria has seen an upsurge in the Boko Haram insurgency in recent years. Violence blamed on the extremists has claimed some 3,000 lives in northern and central Nigeria.