Sounders FC acquired one of the highest-profile players in its history Friday and couldn't wait to show him off.
According to MLSSoccer.com and The News Tribune, the club introduced Nigerian striker Obafemi Martins through a press conference near Sea-Tac Airport's baggage-claim area after his flight from London touched down Friday.
That could be followed by his Major League Soccer debut Saturday, when Seattle meets rival Portland at CenturyLink Field. Martins seemed tired after his flight from London, but he said he would be ready if called.
"All the traveling, and I've not been training for a couple of days now," he said. "It all depends on the coach anyway. Like I said, I'm ready to play. That's why I'm here."
Martins, 28, played 12 seasons in Europe's top leagues, most recently with Levante of Spain's La Liga. He played five years with Inter Milan of Italy's Serie A and three with Newcastle United of the English Premier League.
He scored 49 goals in 135 competitions with Inter, helping the club to four major championships including the Serie A title in 2005-06. At Newcastle, he scored 35 goals in 104 competitions. He also had his highest-scoring season there in 2006-07 with 17 goals — 11 in the EPL and six in UEFA Champions League.
Martins also played for Wolfsburg of the German Bundesliga, Russia's Rubin and England's Birmingham City before last season, when he joined Levante and had nine goals in 24 competitions.
"When Sounders sporting director Chris Henderson came to approach me with my agent, they were talking about coming to MLS to play," Martins said. "All of a sudden I just decided to myself, 'Why not? Let me try and come to the different league and all that.' So that's why I'm here."
Martins also has 18 goals in 38 appearances with his national team, and he will fly out again Sunday to rejoin Nigeria for the Super Eagles' World Cup qualifier against the Harambee Stars of Kenya in Calabar, Cross River State on 23 March.
His signing brings Seattle to the MLS roster maximum of three designated players — along with Mauro Rosales and Shalrie Joseph.
"This move is consistent with our promise to the fans," majority owner Joe Roth said through a club press release. "Our supporters deserve a team that compete each and every year. Obafemi is an electrifying talent who has international experience at the highest level."
Even as Martins was making his intercontinental trip, Coach Sigi Schmid was speculating that his new DP might be available to make his Sounders debut — wearing jersey No. 9 — in the Cascadia Cup match Saturday.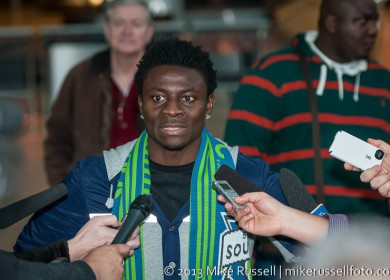 "He hasn't been able to train with us yet or get to know the names of his teammates," Schmid said. "But what's really great and encouraging is his desire to want to be here. I know (Henderson) has been on the phone with him and talked to him about the importance of the game, and he wants to be part of that."
General Manager Adrian Hanauer also had word for the much travelled striker: "We are thrilled to welcome Obafemi to our family," Hanauer said. "Winning trophies continues to be the focus of our club. Martins is an impact player who we hope will help us reach the ultimate goal."
Sounders just qualified for the semi final of the CONCACAF Champions League. They will meet Santos Laguna, the Mexican side that thrashed them 7-3 on aggregate in the quarter finals last season.
Some of the well known names on the Sounders roster includes Djimi Traore, who won a Champions League with Liverpool, USA national team star Eddie Johnson, and Marcus Hahnemann, who played for Everton, Fulham, Reading and Wolves, in England.

Load more