Simon Ateba/Aviation correspondent
Air travellers were stranded on Sunday across Nigeria after the third largest airline, Dana Air, was grounded by the Ministry of Aviation on Saturday evening.
Aero Contractors, Nigeria's second largest airline, suspended its operations indefinitely on Friday after a strike action paralysed its activities nationwide on Wednesday 13 March.
The Ministry did not give any specific reason for the suspension of Dana Air's licence, said Tony Usidamen, the airline's spokesperson.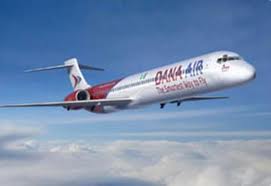 "We regret to announce the temporary suspension of our flight operations following a directive from the Ministry of Aviation through the Nigerian Civil Aviation Authority (NCAA) on Saturday, 16th March, 2013; No specific reason was given for the action," Usidamen said.
He said a meeting is scheduled between the management of Dana Air, the Ministry of Aviation and the NCAA on Monday 18 March.
"We thank you for your patience and understanding, and we look forward to having the pleasure of welcoming you on board again shortly," Usidamen added.
Dana Air resumed operations about three months ago, after its 3 June 2012 plane crash in Lagos.
The airline went through a re-certification process after the crash that killed more than 150 people and left many others homeless.
It was granted its Air Operator's Certificate by the Nigerian Civil Aviation Authority, NCAA, about four months ago and resumed flights shortly after.
Passengers who had already booked online and those who had come to the Murtala Muhammed Airport2 for their trip were disappointed.
Many of them rushed to the General Aviation Terminal where Arik Air operates but could not find available seats as most of them were fully booked.