Patriarch of the French family kidnapped in Cameroon has spoken, according to a report by the news agency, AFP.
In an audio statement purportedly recorded by Nigerian Islamist extremist group Boko Haram and distributed to reporters in the north,  by  intermediaries, the man who  identifies himself as Tanguy Moulin-Fournier and speaks in French and English, detailed the family of seven's kidnapping in Cameroon by militants who took them into Nigeria.
"I have been arrested 25 days ago, with my wife, my four kids, the latest of one being four years old, and my brother who came from Europe, by an armed commando of Jamaatu Ahlisunnah Lidda'awatiwal Jihad," he says in English after his French statement.
Jamaatu Ahlisunnah Lidda'awatiwal Jihad is what Boko Haram has said it wants to be called.
"We have been detained since 25 days in a desert place. Living conditions are very hard," he adds in the recording.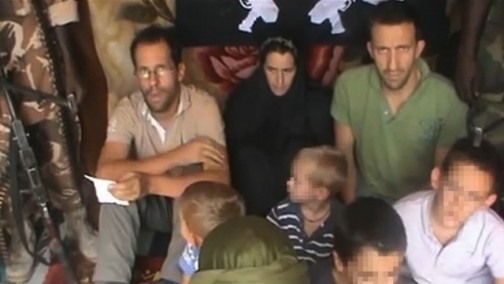 In the recording, the man also repeats previous Boko Haram demands for the release of prisoners in Cameroon and Nigeria.
The extremist group has demanded the release of wives and children of members supposedly arrested in Nigeria as well as members of the group they claim have been detained in Cameroon.
The suspected leader of Boko Haram, Abubakar Shekau, purportedly speaks on the recording as well, both in the Hausa language common throughout Nigeria's north and in Arabic.
The family were on holiday in the region around Cameroon's Waza National Park when they were kidnapped.
Cameroon has said the victims were taken over the border into restive northeastern Nigeria after their abduction, though their precise whereabouts are unknown.
French Foreign Minister Laurent Fabius held talks with Nigerian President Goodluck Jonathan in Abuja on Saturday focused on efforts to free the family. He had visited Cameroon the previous day.
Another Frenchman was also kidnapped in northern Nigeria – which has seen years of violence linked to Boko Haram's insurgency – in December and his whereabouts remain unknown.
Boko Haram is believed to include a number of factions with various interests and shifting demands.
Last week, Britain, Italy and Greece said that a claim by a splinter faction of the group – Ansaru – that it had killed seven foreign hostages abducted from a construction site in Nigeria appeared to be true.
The group has in the past called for the creation of an Islamic state in the country, where corruption is deeply rooted and most of the population lives on less than $2 per day despite its oil reserves.
Nigeria is Africa's most populous nation and largest oil producer, roughly divided between a mainly Muslim north and predominately Christian south