At 80, Brigadier Samuel Osaigbovo Ogbemudia (retd.) is in good health except for a recent accident, which warranted his use of crutches. Ogbemudia, who became the Administrator of the Midwest after its liberation from the Biafran Army on 21 September 1967, is currently convalescing in London, where his meeting with DAMOLA AWOYOKUN yielded a six-hour interview. In the interview, Ogbemudia addresses the revelations about him, as contained in the US diplomatic documents recently published by this magazine, and challenges some notions about the Nigerian Civil War
Take us to Kaduna where you were based during the first coup in Nigeria. 
First of all, allow me to say I wholeheartedly accepted to host you this evening and to tell you my feelings about TheNEWS' recent reports on Biafra. The reports are first-class. When I came back from training in Fort Bragg Special Warfare School in the US, I was posted to the Nigerian Military Training College in Kaduna as an instructor. First, I was the chief instructor, but when Nzeogwu came, because he was senior to me, he was made the chief instructor and I became the senior instructor, special warfare, supporting arms and other related subjects.
Where was Nzeogwu posted from? 
I think it must have been the Staff College. When he came newly, together with Major Onwatuegu, we used to share the same table, sitting opposite each other. We met daily to discuss our training programme. Some civilian friends used to come and see us and during our discussions, they'd ask: 'What the hell are you people doing? Are you going to allow this rotten government to continue like this?'
In other words, the civilians were asking you to take over government?
They never said it directly, but I guessed that was what they wanted.
What were they expecting from you?
Remember that at that time, a few things had happened around Africa. (Col. Gamal Abdel) Nasser had taken over power in Egypt. And one of these civilian friends brought us a book published on Nasser to see if it could influence our attitude. And this visitor was very friendly with us. Then, there were several meetings, but I didn't attend. One morning, about  10 January 1966, Nzeogwu called me and said he was making a roster of senior officers in the infantry wing going on leave and he wanted me to go first. 'You will start next week. When you come back, I will then go,' he said. Then, some soldiers brought radio equipment to install and test. To communicate with whom, I don't know.
Where was this?
In the Military College. I didn't bother to ask because I had been given arms to write instruction pamphlets on and teach such to our students. One of the officers I used extensively in teaching the 105 recoilless rifles was 2nd Lieutenant Sani Abacha. Sometime in January, I got instructions to send 105 recoilless rifles to Abeokuta [2nd Field Artillery Battery] for demonstration at an officers' course. I sent Abacha there with the rifles to demonstrate to them. Abacha was in Abeokuta when the first coup took place.
What were your thoughts about the coup? Were the mutineers right or wrong?
With the benefit of hindsight, I have seen that most of the problems we are having today as a nation came out of that coup. I didn't support soldiers taking over government and I let Nzeogwu know that when that man  gave us the Nasser book to read. I think that was probably the reason he sent me on leave. I had negotiated with Armel's Transport to come to my house and take my luggage to Benin for my leave. Around 9:30am on the morning of the coup, the driver came back and said soldiers turned them back at a roadblock in Kakuri. I told them soldiers don't mount roadblocks, only police do that. They said they were soldiers. So, I said, 'Get into my car, let's go and find out.' When we came out of the cantonment, driving on the Kaduna-Kawo Road, the Ministers' quarters were located on the left and the railway line and the car sellers were on the right. I was looking at those cars and didn't look on the left. When we got to the roadblock, I asked the 2nd Lieutenant in charge why they were putting up roadblock. He asked if I hadn't heard what happened. I said I hadn't. He said: 'Ok sir. When you go to the brigade headquarters, they will tell you.' On my way back, I saw the wife of Lt. Col Hassan Katsina. I asked: 'Hajiya, why are you walking on foot when  your husband has a beautiful car?'  She told me the Sardauna had been killed and his house completely burnt down.  I went there and saw the house still burning. Then I went to the brigade headquarters, which was on the way to Kaduna, just before Kingsway Stores. There, I found a lot of soldiers. As I was going upstairs, I saw the governor of Northern Region, Sir Kashim Ibrahim, sitting on the floor. I said: 'Ranka dede, what are you doing here?' He said, 'You people brought me here.' I asked, What for? I left him when he was reluctant to answer questions because there were soldiers there. I walked towards the brigade commander's office.  There, I met Nzeogwu. He had a white bandage around his neck. He told me he was forced to strike last night. He said the whole of the Northern Region was under him right now and there were still some problems with Lagos. I asked him why he didn't tell me. He replied that they couldn't tell everybody. I asked him if he regarded me as everybody. I left his office and told him that whenever he wanted me, I was at home.
What were you expecting from him? 
I was expecting him to take me into confidence and I would have dissuaded him.
Weren't you concerned about the whereabouts of the official  brigade commander, Brigadier Ademulegun and his deputy, Shodeinde? 
I asked him. He said they were not around. It was on my way down that I met Obasanjo, then a major.  Both of us went back to see Nzeogwu. Obasanjo and Nzeogwu were best of friends and they understood each other very well. Obasanjo asked: 'Kaduna, what's all this about?' He gave Obasanjo the full brief of what they had done. It was then it became known to me that Ademulegun, Shodeinde, the Premier and a number of others had been killed.
Obasanjo and Nzeogwu were very good friends, as you said, who understood each other. Why didn't Nzeogwu tell him of the coup beforehand? 
I don't know why. Ask Obasanjo when you meet him.
Alright, go on.
Nzeogwu said it was during the operation in the Premier's house that he sustained the injury he was using the white bandage on his neck to cover. He lobbed grenade but didn't bend low enough.  He told us he was sending a contingent headed by Captain Swanton to Lagos to capture Ironsi and bring him to Kaduna. When Obasanjo and I got out of his office, we discussed it and we went back to tell him it was a suicide mission. We warned him against sending the boys to their death.
 Why would he want to bring Ironsi to Kaduna? Won't that create a power vacuum? 
At that time, the government had not been handed over to Ironsi. We later heard that day that he had taken control of the government. Eventually, Ironsi sent Colonel Conrad Nwawo to bring Nzeogwu to Lagos. After Ironsi became the commander-in-chief, he went round the country and visited Kaduna. I was appointed the brigade major [of the 1st Brigade] and a new brigade commander was posted to Kaduna. He was Lt. Col. W.U. Bassey and the deputy was Lt. Col. Effiong. Lt. Col. Hassan Katsina had been appointed the governor of the Northern Region. In my position, I attended various security meetings held in the Government House. The intelligence reports sent from time to time showed there was tension all over the North that the coup plotters were not punished.
Among soldiers or civilians?
Both. The rumour had started that it was an Igbo coup because some Igbo in the North made photographs of Nzeogwu standing on Ahmadu Bello's corpse. The intelligence report said unless Ironsi did something, they would do it themselves. And Katsina made efforts to deny it was an Igbo coup. But I don't think the denials convinced the soldiers and civilians, because it got to a stage that Hassan Katsina himself told all the soldiers that, 'We (the northern soldiers) are not cowards. When the north wants to carry out a coup, it will not be in the night like the Igbo. It will be in the day.' Then in July (1966), it happened.
 Can you shed more light on the reported  killings of Igbo officers?
I didn't see many dead bodies. It was only Lt. Col. John Okoro, Commanding Officer of the 3rd Battalion, Kawo, who was killed by mutineering officers. The mutiny by the northern soldiers was on. Anybody regarded as Ibo didn't find it easy with them. Even myself. Until Abacha told them I was not Igbo, they didn't believe that I wasn't. That was when he came to me and said, 'You must leave now.' And he escorted me from Kaduna around midnight till we got to Ilorin at 5am. He turned back and I arrived Benin around 2pm. In Benin, I took over from Major Mobolaji Johnson (station commander) who had been posted back to Lagos.
 Before you became a target, there were some officers you helped escape the northern mutineers…
As the brigade major, Col. Festus Akagha and some soldiers came to me and said he couldn't go back to his house because the northern soldiers and civilian rioters might kill him for being Igbo. I gave Akagha my pistol and ordered an escort to take him to the Kaduna South railway station where they were put into a locomotive tank and filled it with water to their neck level. That was how they were able to travel out of Kaduna.
 When Abacha drove you to safety in Ilorin, what kind of discussions did you have in the car?
We were not in the same car; I drove my car and he was in a Landover in front with escorts. Gradually many more Igbo-speaking Midwestern officers, who had escaped from their various units, assembled in Benin. And once a senior officer came, he automatically walked into the command chair. When Col Nwawo took over as the commander of the Midwest area command, 12 of them were senior to me and I was appointed the deputy quartermaster-general. The Igbo-speaking officers said since Col. Nwawo was senior to Ejoor, he should take over as the governor. Those of us who were non-Igbo-speaking opposed it and it did not happen.
The American secret cables report that Ojukwu had been gathering arms since October 1966, after the mass killings in the North. In fact, one of the planes of his arms dealers crashed at the border with Cameroun.
If Ojukwu had been gathering arms, I wouldn't know. Between Benin and Enugu is a minimum of two hours drive and it is difficult for me to know.
 What about the intelligence officers of the Midwest Command?
The intelligence officers were not supposed to be gathering nationwide intelligence, but intelligence relating to the safety of the Midwest.
Which included Asaba?
Yes. The bridge was the boundary.
There was no unit in Asaba, boundary to the region with which the country was at war?
At a certain time, there was a unit commanded by Lt. Col. Ochei. But there was a shortage of weapons.
In his interview with this magazine, Major Paul Ogbebor (retd.) said you went to Lagos to pick up explosives to defend the Midwest?
I never saw explosives. Because we didn't have enough weapons, Ejoor negotiated with the Army Headquarters in Lagos and they sent a DC3 plane, which took me from  Benin to Kaduna. The Army Ordnance Depot gave me only 41 rifles!
 As the drums of secession were being beaten, there was an incident in which Ojukwu's boys hijacked a plane in Benin.
The plane was a passenger plane and they went to the pilot with a gun and asked him to fly to Enugu.
 What was the reaction of the Midwestern Command?
They only said all planes leaving Benin should be properly checked.
Now to the war itself. Did you know Victor Banjo before the war?
Very well. In Ibadan in the late 50s, I was assigned to the University of Ibadan to train what they called Cadet Corps. In the cadet corps, we had Banjo, Emmanuel Ifeajuna and some others.
You just mentioned Banjo and Ifeajuna – two figures who reshaped history of the nation as we knew it and who were executed together on the same day. Tell us what you think of them?
I was assigned to train cadets in University of Ibadan. Occasionally, they would bring the students to the barracks and I would teach them how to assemble, dismantle and clean rifles. Banjo and Ifeajuna were among them. One day, the Defence Minister, Alhaji Ribadu, visited the 5th Battalion in what was described as an inspection tour. So the CO (Commanding Officer) introduced Ifeajuna to Alhaji Ribadu. He said: 'Your Excellency, please meet Emmanuel Ifeajuna, the gold medallist at the Commonwealth Games.' Ribadu shook his hand. Later in the day, the CO called me and said Ribadu was not happy with what we were doing. He said the students were already violent and we were training them to use weapons. He said, 'These boys may turn these arms against us someday and we won't be able to control them.' Gradually, we withdrew the weapons and didn't continue with the cadet corps training.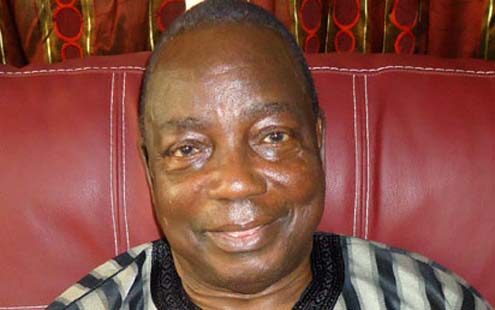 What was Ifeajuna's reaction to the withdrawal? 
They were students and couldn't have had any telling reaction. But Banjo was a good cadet. He was always willing to learn and often asked many questions. After training, he often asked more questions about how to assemble rifles. Sometimes, I joked with him that his pair of glasses were too big and he should take them off.  He'd reply that if he took them off, he wouldn't see well.
 And Ifeajuna?
When Ifeajuna joined the army, everyone welcomed him because the army was interested more in his gold medal than anything else. They were thinking by the time the Olympics Games came, he would get another gold medal. But I didn't think he prepared very well.
How did Banjo arrive in the East?
What I heard was that when he went to see Ironsi just after the January coup, someone had already informed Ironsi that he was coming to kill him. Once he got to Ironsi's office, he was arrested and detained along with the coup plotters and then moved to the East with them.
Who among the Midwestern officers did you know collaborated with the Biafrans?
The intelligence reports named almost every Igbo-speaking officer: Nwawo, at the apex, Trimnell, Nzefili, Okwechime, Nwajei, Ochei and all the others.
 Who compiled this intelligence report?
The special branch of the police.
 With the benefit of hindsight, would you say that the E Branch of the police was right? 
Yes, in a way. For example, Lieutenant Ochei was assigned to defend the Asaba end of the Niger bridge. Later on the day of the invasion, it was reported that the same troops were redeployed to the Lagos end of the Midwest. And people asked if an attack was coming from Lagos or from the East. Also, the night before, Nwawo gave orders that the weapons of soldiers of the area command should be withdrawn.
According to the American secret diplomatic files, Ejoor was meant to be assassinated by the Biafrans when they invaded. Did you know about this? 
I was not aware.
 Why did you think Ejoor fled, leaving behind his wife and children once he was hinted of the Biafran invasion?
I don't know.
 In  the middle of July, while the war was on, Ejoor made a broadcast that he had intelligence that Ojukwu was planning to invade the Midwest, using soldiers wearing mufti. Were you aware of that?
It was an open secret that Ojukwu was planning to invade the Midwest. We met and demonstrated how we were going to defend the Midwest by holding training at Benin airport.
There was also an instance when Ejoor met with Ojukwu at the Niger bridge in Asaba.
I remember Ejoor saying to me that he was going to Onitsha tomorrow and he would need an escort. I organised an escort and commanded it myself. The meeting was at a building on the right just after the bridge in Onitsha. The door was closed and we the escorts stood outside. And  when they came out, I was not in the same vehicle with Ejoor to ask him what they discussed.
 What about Ojukwu's escorts?
What they said was we should have two Nigeria: one is a dominion of southern Nigeria and the other the North. When it came to who would rule, the Easterners insisted it should be Ojukwu. We said Awolowo. They said no.
 What were the reasons each side gave for its choices?
If Ojukwu were to be the head of state and using seniority, it would take a long time before it could get to a non-Igbo Midwesterner, who was number thirty-something in the armed forces. That was not good.
What if Awolowo was the Prime Minister?
For us, there was nothing wrong with that. Remember, Awolowo was the deputy chairman of the Federal Executive Council. In other words, he was already the prime minister. When Ejoor came back into the vehicle and we were going back to Benin, he said: 'Don't mind these people [Biafrans]. They think we are fools.' What led to that, I couldn't ask; I was a junior officer.
 On 5 August 1967, three days before the invasion, Ojukwu made a radio broadcast warning Ejoor not to allow "the Hausa soldiers" passage through the Midwest to the East. 
I think what he said was that we should not allow them to step on the Midwest soil at all else they will come across the Niger Bridge and fight them.
 Then he invaded. Yet, there were no Hausa soldiers in the Midwest. 
Yes.
 Did he say that so that the Biafran Army could have unimpeded access?
I can't say.
 On the day of the invasion, did Ejoor tell you why he left? 
Nwawo, the Area Commander, phoned me around 5am and said: 'Sam, I was told the Biafrans have already crossed the bridge, come and discuss how we will deal with them.' I replied that I thought it should have been done earlier. I went to the headquarters where I met other senior officers. With no emotions, no anger, no disgust, they said the Biafrans are here. I then suspected the motive of the meeting was to organise us to go and welcome them. I left them and went to the Government House to see Ejoor. They told me the governor had gone. The day before, Ejoor's ADC, Lt. Col. Idahosa, told me he was not sure of those boys Nwawo sent  to guard the Government House. That evening, I brought non-Igbo speaking troops.
Did Ejoor know about that?
I don't know, but his ADC was aware.
At that senior officers' meeting, wasn't anyone curious about the whereabouts of Ejoor?
Nobody discussed the governor at all.
 The most senior officer in the Midwest was Ejoor. He was also the chief security officer of the state. Shouldn't he be the one to make the phone calls Nwawo made, calling officers to assemble for security meeting on how to deal with the Biafran invaders instead of running away?
No. Ejoor was a governor; he did not control any troops. Nwawo was the area commander. And from the beginning, he never hid his feelings that there had been some injustice and therefore we must support Biafra to succeed.
According to the information contained in some American diplomatic cables, you phoned Bisalla at 7:22 in the morning of 9 August 1967, when the Biafran army reached Benin.
It was from Owo Post Office that I phoned Bisalla and that was between 12 – 16 of August. I never phoned him on the day of invasion. Later that morning, I went into hiding for four weeks.
From that day of invasion till 9 September 1967, when you appeared in Lagos, you were in hiding. Tell us about it.
That, I can never tell.
 Why?
Because it is my secret.
 Forty-four years after the war, you are still keeping secrets about an important part of our history?
No. You'll be exposing the people or the village to danger.
I don't think so. There is already information out there you collaborated with the Biafran invasion?
All I want to say is that on the day they reached Benin, I took refuge after talking to the non-Igbo soldiers that since we didn't have weapons to fight, we should all go at 6 O' clock and assemble at Maria Gorretti Grammar School, and we held our meeting. And we started what was called hit and run against the Biafran forces. Also, my wife at that time, was a senior police officer and took me anywhere I wanted to go.
And she passed several Biafran roadblocks in the Midwest?
Yes. They even saluted her and let us pass. She was a deputy superintendent of police.
 How come they allowed her to move around freely? Was she Igbo?
The police were already cooperating with them. Whenever things like this happened, the police were easily subdued.
Who was the head of the Midwest police?
Izirien.
Well, your hideout was in the village of Uwissan. Your mother was there too. What was the name of the reverend father who brought Victor Banjo to you?
I don't know his name; he was an Irishman.
 How did the reverend father know your hideout?
He met my brother-in-law who brought him to me.
When the reverend father said Banjo wanted to see you, how did you react?
I told him I didn't mind. The Banjo I knew since the Ibadan days won't come and shoot me, but at the same time, I sent for my relations so that if I was going to be killed, it was going to be in their presence. I sent for my mother and brother in-law. When he came, he said they had taken over the state and wanted me to cooperate with them. He said they would make me the military governor. I said we already had one in Ejoor.
 Wasn't it the same situation when Lt. Col. Murtala Muhammed,  head of the 2nd Division, made you the administrator of the Midwest after its liberation on 21 September 1967 and you accepted?
That one was different. We all fought together to liberate the Midwest.
But why didn't you defer to Ejoor then? 
Murtala knew Ejoor was the governor. I only accepted to administer the liberated areas.
 Which you did from then till July 1975? So you never asked Banjo why they invaded and occupied the Midwest and to what end?
I knew very well the feelings of Banjo. I was satisfied in my mind he wasn't a secessionist. As far as I know, Banjo's aim was to go to Lagos, stabilise the place and get the West to start taking care of themselves.
What do you mean "stabilise"?
I am using his own word. It made sense the way he analysed it. The war was on, he didn't want the Midwest to take part. He didn't want the Yoruba to be involved. Since it was North versus the East, let them fight it.
So there was no mention of Ojukwu?
No, he didn't mention Ojukwu at all. And he left. I decided the place was no longer safe. The following day, I was on my was to Lagos. I slept at a village near Ovbioghe. From there I walked through Egbeta, Ogbese, crossed the river and took motorcycle to Owo. It was at Owo post office that I phoned Bisalla.
 How many troops did you command from your hideout?
About 100.
Is there any of them that is prominent today?
I don't know.
How successful was this hit and run campaign?
It was very successful because it delayed the Biafran army from going to Lagos. They had to stay to restore and maintain law and order.
 Was this in conjunction with the 3rd Battalion already stationed at Akure-Owo on the western fringe of the Midwest?
We were on our own and the local people helped us a lot. When I got to Lagos, I briefed Bisalla and Gowon. They were happy to see me. They told me of the existence of Midwest Solidarity Committee headed by Chief (Jerome) Udoji and the secretary, A.Y. Eke. The Army Headquarters then told me the second division had been formed under Murtala Mohammed for the purpose of liberating the Midwest and that I should go and join them. Because I had no weapon, I travelled to meet Obasanjo in Ibadan, took his sten gun and then went to join the second division at Sabongida-Ora.
  Did you talk about Banjo when you met Obasanjo in Ibadan? 
I told him I was asked to join the second division and I was in a hurry to take the sten gun. I took it and left. I didn't have time for any discussion.
  Because he too had some contact of sorts with Banjo?
I have told you Banjo's matter was not a serious thing to start telling people around. He offered me governorship of Midwest, if I cooperated with him. I told him that if Ejoor said we should cooperate with him, I would do that.
 According to the American documents, the morning Biafra invaded Benin, Ejoor sought a sort of asylum at Bishop Kelly's house and stayed in the Catholic seminary for two weeks. The same way Banjo solicited your cooperation, he, Nwawo and some other Midwestern officers solicited his cooperation with Ojukwu.
Ejoor never told me that. What he said was that he took a bicycle. Haven't you read about the bicycle matter.
That was the popular account. We never knew, for instance, that Banjo came to you in your hideout. It was reported that the day the federal troops liberated Benin and you had been made the temporary administrator, up to 900 innocent people were killed.
Many of the stories of mass killings were not true. My house was full of Igbo people. They stayed in my compound for more than 10 days. I opened my door and said all those who were not sure of their safety should go there. They went there and my soldiers guarded them.
Not sure of safety? It meant something unwholesome was going on.
There was a war going on. When we set up the Justice Omo-Eboh rebel atrocities tribunal, many people who said they killed this and that couldn't go to that tribunal to testify under oath.
 But some went there to testify. So why didn't you release the report to the public? 
There was nothing to release that the public didn't know already. The major newspapers, radio stations and the three television stations we had in Nigeria covered the sitting of the tribunal, so the public knew everything going on. And my purpose of setting up the tribunal was to get the truth told and in the meantime, to lower the tension. And it achieved that. By the time Omo-Eboh submitted his report, tempers had already gone down and there was no need to act on it any more. It wasn't meant to punish people.
In November 1967, Murtala Muhammed sent a letter to Gowon describing what was happening in the Midwest. The letter, the American ambassador then noted, was a sharp contrast to his widely accepted public image. Murtala's letter showed someone who cared about the unity of the country, healthy relations among the various ethnic groups in the Midwest.  He was even concerned about witch-hunting the Asaba Igbo when, according to him, all the ethnic groups had representatives who collaborated with Biafra during the invasion and occupation.
I agree. Murtala was a federalist. He did everything to save innocent lives. The Nigerian soldier who killed two people at Ibuzor Post Office was brought to Benin for trial and executed. Murtala asked the soldier why he killed them. The soldier said they were Igbo. Murtala asked if that was an offence? He had no answer. He was found guilty and executed at King's Square, now called Roundabout, in Benin. He gave strict instructions that on no account must civilians be touched. And Murtala broadcast it at a meeting with the soldiers. But if you listened to the Radio Biafra, if you count the number of Igbo they said got killed, there would be no person left in Biafra. The Biafran propaganda was good. The day I saw Okoko Ndem (popular Biafran radio presenter), I said: 'My friend, I respect you because you tell stories.' He once said that Mobolaji Johnson had his brain in his size 13 boots and met with a motor park tout called Ogbemudia and went on and on.

Load more