MADUABUCHI NMERIBEH/Kano
As relations of the dead scout around morgues in Nigeria's Kano hospitals in search of their own, survivors of Monday's suicide bomb attack which triggered multiple explosions at the New Road Luxury Bus Terminal in Sabon Gari, have relayed their experiences to journalists.
Those who were able to speak Tuesday evening described the attack as gory, tragic and devastating.
According to Ahmed Abubakar Warawa, 58, who sells cap within the multi-million Naira luxury park, the attack came to him as a huge surprise.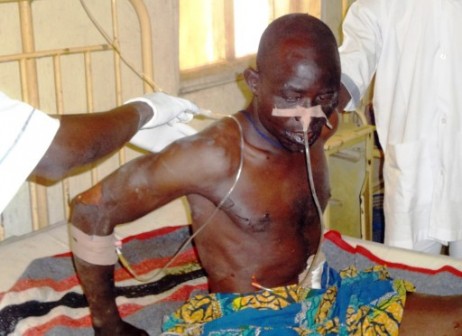 Ahmed suffered second-degree burns and is currently taking treatment at Murtala Mohammed Specialist hospital.
But for his third wife who fell ill on that, Ahmed never planned to hawk at the Park. He had elected to locate his business at the Park so as to get some money to buy drugs for the wife. "Now, my situation is pathetic. I have no money to take care of myself and my sick wife; I have three wives and eight children. How do I cope with feeding them? I am serious agony which these heartless people have put me into.
Abdulazeez Rimin Kebe, whose means of livelihood was through menial jobs at the Luxury Park is gnashing his teeth in pains at the same hospital where he is being treated, "the people that put me in this agony I am passing through, without offending or knowing them would surely get the wrath of God because for now, I cannot explain my present condition.
"I have lost my nose, as well as a deep gorge in my stomach, I am placed under drip. I am severely feeling the pain. I may die any moment from now, only God will avenge what these people have done to me, I will never forgive them.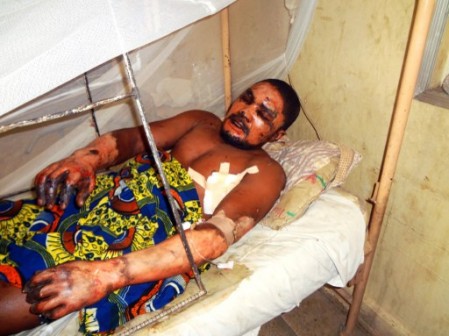 Emmanuel Bassey, 27, attached to Ezenwata Transport Limited suffered multiple fractures on his left leg, with a ruptured intestine said.
In pains, he faintly narrated all he could remember before the blast, "our luxury bus was beside a Lagos-bound bus, suddenly I saw a Golf car on top speed heading towards our direction, promptly applied his brake, all I heard was an explosion and found myself in the hospital but all I could remember is that four of my friends I was standing with are now dead.
Another young man who identified himself as Emeka works with the ill-fated Gobison Luxury bus, but now in admission at Dala Orthopedic hospital.
Emeka was cracking jokes with friends when the effects of the blast threw him up, and disfigured his legs and hand, "to be realistic, we saw a White Golf car, and we thought that the occupants were attempting to deliver some parcels for courier, within a twinkle of an eye, the car parked beside our bus and all what we heard was a loud sound, which took us off our feet and everywhere was engulfed in fire."
Our Correspondent counted no fewer than 25 victims of the Luxury Park incident at Dala Orthopedic hospital alone. Dozens of other wounded persons are on admission at government-owned hospitals across the state.
Witnesses described hearing multiple blasts and seeing wounded victims in bloodied clothes flee the area as authorities cordoned off the scene.
"I was boarding the bus to Lagos when I heard a huge explosion," Abdulaziz Baban-Lamma, a 47-year-old trader, told AFP from his hospital bed.
The blast left him with severe injuries to his abdomen and other survivors ran to assist him when they saw his condition, he said. He later underwent emergency surgery.
"May Allah curse whoever was behind the act," he said.
Magawata Goje, 45, was selling dried meat at the station when the bomb went off.
"Something sharp hit me under my right ear," he said.
"Blood gushed out and I was drenched in my blood."
When he regained consciousness, "I could see many people burnt to death," he said.
Meanwhile, Kano state Deputy Governor, Umar Abdullahi Ganduje visited the scene of the incident on behalf of his boss, Dr. Rabi'u Musa Kwankwaso.
He condemned the attack in strong terms.
In his words during the visit, "we have been working round the clock to ensure that those injured victims were saved and we were also doing our best to make safe and alive by the grace of God.
"We have been going round to assess the situation and condition of those in the Hospitals and Medical Doctors have been given adequate instruction to safe the live of the survivors by putting their best in this situation for quicker recovery.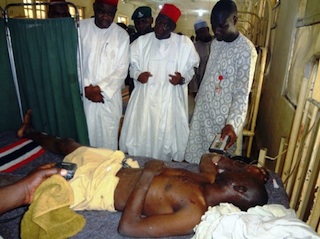 "Government is determined to ensure that these victims were safe. This incident is unfortunate, you can see that it is a calamity those who committed this crime are barbaric and criminals and it's a condemnable act. They are not representing any religion , they are just on their own. Islam doesn't allow this kind of act and it is condemned by the Holy Quran.
"This kind of attack exposes disadvantage of having a motor park in the heart of the city, you are aware we were creating a Mega Motor park, and it would be modern Motor Park with necessary facilities and security arrangements."
Ganduje promised that the state government will foot the hospital bills of the wounded.