Jamiu Yisa
The case filed by Mr Ebun-Olu Adegboruwa, challenging the proposed toll fee on the Lekki-Ikoyi Link Bridge came up for hearing today March 21, 2013, before the Federal High Court, Ikoyi, Lagos, southwest Nigeria.
The case could not be heard as the judge, J.Saidu was said to be on national assignment.
It was consequently adjourned to April 29, 2013 for hearing.
At the last adjourned date, Lagos State filed papers in the case, claiming that the case was premature as it had not yet decided whether to toll the bridge.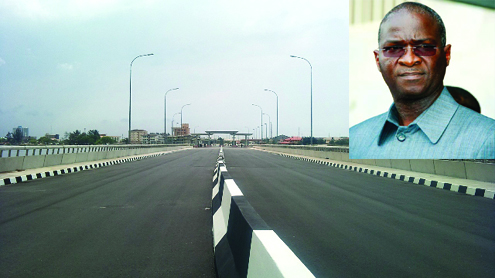 In response, Mr Adegboruwa filed a further affidavit, sworn to by himself, attaching photograph of a sign post erected at the entrance of the bridge by the Lagos State Government, showing clearly that it is a toll bridge.
In the new affidavit, Mr Adegboruwa said that he personally went to inspect the bridge and discovered that five toll plazas have already been built on the bridge, preparatory to the commencement of tolling, but for the case pending in court.
Lagos State had also claimed to have promulgated a Waterways Authority Law, by which it claimed to have repealed the existing NIWA Act.
In his response, Mr Adegboruwa stated that no House of Assembly of any state in Nigeria has the power to make any law that will repeal an Act of the National Assembly.
In his view, it amounts to legislative rascality and democratic impunity, for the Lagos State House of Assembly to claim to have repealed the NIWA Act, which is an Act of the National Assembly.
Under the constitutional doctrine of 'covering the field', once the National Assembly has made a law on any issue, then that law has taken care of that issue all over the Federation and a State House of Assembly cannot make any law on the same issue.
He contended that if Lagos State truly has power over the Lekki Lagoon, there would have been no need for it to seek approval from the Federal Government to erect the bridge in the first instance.
The judge is expected to take arguments in the case when next it comes up on April 29.
NIWA is now being represented in the case by Mrs Queen Mba.