The government of the western Nigerian state of Ogun has handed a final quit notice to cattle traders and other illegal dwellers at the Isheri-Karra Cattle Market on the Lagos-Ibadan Expressway.
The state Commissioner for Environment, Dr Lanre Tejuoso, made this known on Friday during a visit to the market.
He said that the notice was a demonstration of the government's determination to sanitise the place and ensure that the cattle traders moved to the permanent site already approved for them.
He said the current location was an "an eyesore" to visitors to the state, adding that the government could no longer tolerate the nuisance it constituted.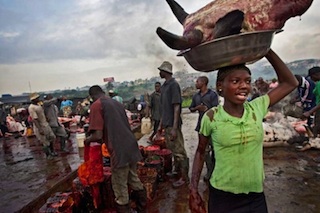 "If you are coming from Lagos, you would see beautiful scenery. In fact a cynosure of all eyes until you get to Berger, the boundary between Lagos and Ogun. After Berger is the Karra Market and what you see is nothing but an eyesore.
"The movement of the traders from the market is pertinent in order to provide good scenery that carves a new image and perception for the state," Tejuoso said.
The commissioner said that the government had provided a new site for the cattle market over a year ago, adding that it would be provided with a good road network and other infrastructure
Tejuoso said that issuance of the quit notice was necessitated by the refusal of the cattle traders to willingly move to the new site. He warned that anybody who contravened the order would be sanctioned in accordance with the law.