Disc Jockey, Ayeni Ismail Abiodun, better known as DJ Slam, tells BAYO ADETU about the challenges of being a DJ and the music industry.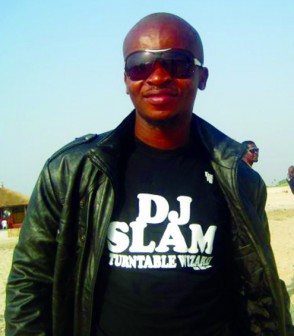 You have established yourself as one of the most popular radio DJs in Nigeria. How did the journey start?
It started in 2002, with some friends in my neighbourhood. We went for shows and charged as little as N500. At the end of the day, we would go home with nothing because the N500 would be spent on new equipment. Financially, it was very tough, but what kept us going was the fact that we have passion for the job and we enjoy doing it, even when people didn't pay us. If I quit, I would have been a loser. But thank God, I'm a winner because I refused to quit. DJ Slam is doing well now and I give God the glory.
What was the turning point in your career? 
It was when I got employed as a DJ on Star 101.5 FM. Actually, things didn't turn good until after two years. It was that period that people started calling me the 'turntable wizard'. I started meeting celebrities, going for big shows that fetch good cash, playing for thousands of people and getting more fame for what I like to do best.
Describe your experience and the challenges of being a DJ in Star FM?
It was a great challenge. I had challenges when I first joined. I had the challenge of how to please my listeners, the challenge of playing alongside more popular DJs that I met at the station. Star FM had many DJs before I joined and they were all doing very well. I thank God for bringing me this far. Many people appreciate me now when I'm slamming the beats. It can only get better.
Generally, is DeeJaying a challenging job? 
It is very challenging. For the quack DJ, it may not be challenging. As a professional, you will be confronted with the challenges of acquiring modern equipment and skills that will make you stand out on the job. You also have other good and talented DJs out there to compete with and that means you need to be on top of your game everytime.
The popular perception is that the job is a refuge for drop-outs and other dysfuctional people. 
That's very far from the truth. As for DJ Slam, I'm an OND holder and also undergoing a programme at the Lagos State University. I know many DJs who are graduates, so I won't agree that most DJs are drop-outs. The DJs we have now can compete educationally. We have DJs who hold second degrees; the job has gone beyond mixing songs. You need wisdom and knowledge to read people's mind and calculate what you are mixing. You must make sense all the time.
But there are many half-baked DJs in the industry? 
Most definitely. Many of them are just out there trying to make ends meet and in the process, they forget to go for training. Just making money is not what a DJ should be out for, but having passion for what you do because the opportunity of working in high places as a DJ might come up in the future. But if you're half-baked, you'd likely miss the privilege.
How do you think the profession can be sanitised or regularised? 
It is more of an individual thing. You need to polish and package yourself very well. For instance, I don't mix with people who can't add value to my life or what I do. Being a DJ does not mean that you can throw decorum into the air. Get more time to study your environment and how to relate with people. Some people may call it pride, but tell them it is class.
Are you a member of the Disc Jockey Association of Nigeria, DJAN?
I'm still hoping to join because it's a nice thing to be in an association of your profession. They hold meetings every second Monday of the month, but I'm always in Ibadan on Mondays.
Who exactly is DJ Slam? 
I'm easy going, a lover of music, fifth child out of six boys of Mr & Mrs Ayeni. I practice Islam. I'm happily married.
How did you come about the name, DJ Slam?
I derived the nickname from my real name, Ismail. I wanted to make it DJ Islam before, but I felt it wasn't funky enough, so I ended up adopting DJ Slam.
You also sing. Why? 
I'm a music lover; I write songs and screen songs that are to be aired on radio. I know what it takes to play good music, especially danceable music. All these prompted me to release the single, Get High, featuring Yoruba rappers like Seriki, Jhybo and M-flow. The chorus was done by a talented female singer, Helen9th.
When did you discover the singing talent in you? 
I discovered the talent through my scratching. I realised that my scratching makes people dance and I could also sing to make them dance.
What are you working on now?
My fans should be expecting the video of Get High and more of DJ Slam on my Funky Friday Mix as well as the Saturday Morning Show, Blast From Tha Past, on Star FM, Lagos. They can also listen to Star FM 91.5 in Ibadan from Monday to Friday, 2 to 6 p.m.
Do you think the music industry has come of age? 
The music industry has gone beyond imagination. It has produced artistes, who are not just talented, but have been making good money from music. We also have more professional producers making it real now. The industry is growing real fast.

Load more