Nigeria's literary icon, Professor Albert  Chinualumogu Achebe is dead. He died last night in a hospital in Boston, Massachusetts, United States of America. He was 82.
Achebe authored or co-authored at least 17 books, among them 5 standout novels, Things Fall Apart, 1958, No Longer At Ease, 1960, Arrow of God, 1964, Man of The People, 1966, and Anthills of the Savannah, 1987. He edited several anthologies and the essay collections including Morning Yet on Creation Day and Hopes And Impediments as well as the collection of poetry, Beware Soul Brother.
He went to local schools and was one of the first students to graduate from Nigeria's premier university, the University of Ibadan.
He was the founding editor of Heinemann  African Writers Series. He was often described as the father of modern African literature because his novels were primarily directed at an African audience. Things Fall Apart remains his most famous work. The book was translated into over 50 languages across the world and sold about 12 million copies.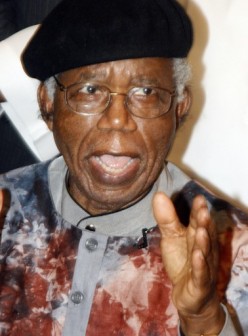 His last book, There Was A Country, was his personal memoir on the 30-month Biafra war during which Nigeria split up.The book ontinues to generate acriomonious debate largely on account of Achebe's excessive tribalism and inaccuracies that in the view of his critics, diminish his high standing. During the civil war, he worked in the Biafra Ministry of Information as a special envoy and chairman of a committee charged with writing a constitution for the new country. He played the role of a propagandist for the secessionist regime of Emeka Odimegwu Ojukwu. When Chief Obafemi Awolowo died in 1987, he described the state burial accorded Awolowo as a national swindle.
Until his death, he was professor of Africana Studies at Brown University, USA. Achebe was reported to have taken ill and was hospitalised at an undisclosed hospital in Boston where he passed on last night.
Meanwhile, tributes came in torrents for the departed man of letters today. Reacting to his death, Okey Ndibe, a Professor of Literature, who teaches in the United States described Achebe as "one of the brightest literary stars" in Nigeria and the world.
Constitutional lawyer, Prof Itse Sagay described Achebe's death as sad, saying that "one has a deep sense of loss because he was an enormous figure in the literary world and has given Nigeria a good image." Sagay wished Achebe had not made very controversial remarks in his book, 'There Was A Country', which tended to create ethnic disharmony, but added that "he was a great man and a great loss to Nigeria."
The Yoruba socio-cultural group, Afenifere, also paid tribute to Achebe, describing him as a great man in the literary world. Its National Publicity Secretary, Yinka Odumakin said "an iroko has fallen, the master story teller has gone at a ripe age. We pray his soul rests in peace. We pray for great people like him to continue to emerge."
Lagos lawyer, Festus Keyamo, described Achebe's death as a sad development, adding that "He is one of the last Mohicans. There are very few of them still existing in the world. Nigeria will miss him." Dr. Wale Okediran said "Achebe was a great man. It's a loss to the literary world. He was the founder of ANA, the Association of Nigerian Authors. His last controversial book, nothwithstanding, he should be given a state burial. In addition, an important public facility such as an airport or university should be named after him."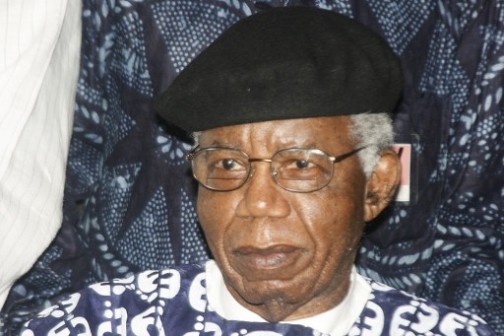 MASSOB leader, Ralph Uwazuruike said Achebe's death was a sad development and a sad news, saying he was a Biafra man who would not be forgotten. "It is a sad news. He was a man worthy of emulation. We pray God grants Ndigbo the fortitude to bear the loss," he said.
Dr. Joe Okei-Odumakin, National President, Campaign for Democracy said Achebe lived a great and eventful life and that it was a pity that he died at a time when the nation is still in shambles.
Mr. Joe Igbokwe, Action Congress of Nigeria, Publicity Secretary, Lagos Chapter, described him as "one of the finest souls in Igbo nation, Nigeria and Africa.. Ah! The falcon cannot bear the falconer. Anarchy is loosed upon the world. Things fall apart! Another tall iroko tree in the huge and thick forests of Igboland falls and the birds have nowhere to perch."
Odia Ofeimun, in his tribute, said, "Achebe was a great story teller but his lies will not stand. His last book will be used to judge all his other books."