Cypriot politicians were facing increasing pressure to rethink their rejection of a levy on bank deposits, as a deadline to secure an EU bailout loomed closer Saturday.
They approved the first three of eight measures put forward by the government in their bid to meet the terms of the EU bailout in a late-night session late on Friday.
But with the the clock ticking down to a crunch Sunday meeting with eurozone finance ministers, MPs still have to debate more contentious issues, such as a tax of up to 15 percent on bank deposits of 100,000 euros ($129,000) and more.
The government needs to seal the package by Monday or face being denied European Central Bank emergency funds, a blow that would devastate the island's banks and its economy.
On Tuesday, MPs flatly rejected proposals for a 9.9 percent tax on bank deposits over 100,000 euros, with a 6.75 percent levy on deposits of 20,000-100,000 euros.
The original proposal had also proposed to tax savings below 20,000, but the parliament's financial committee had dropped it before the vote.
The levy would have hurt many ordinary Cypriots as well as many Russians, including wealthy tycoons. They hold between a third and half of all Cypriot deposits and are believed to have more than $30 billion in private and corporate cash in the island's banks.
With the EU deadline approaching, Cyprus's chamber of commerce and employers' federation have joined its major banks in calling on deputies to reconsider their rejection of the levy.
Some of the bank employees demonstrating outside parliament were among those calling for a rethink on the tax, or "haircut".
In Friday's late-night session, the MPs backed a national solidarity fund to be set up through the nationalisation of public and private sector pensions.
They also approved capital controls to prevent a run on the island's troubled banks when they finally reopen on Tuesday after more than a week.
And they passed a restructuring plan drawn up by the central bank that will separate good debts from bad in the island's troubled banks, particularly second largest lender Popular Bank — Laiki in Greek.
This bill, easily the most contentious of the three approved, passed by 26 votes to two, with 25 abstentions.
Acting ruling Disy party leader Averof Neophytou has appealed to MPs to back the legislation, saying it would guarantee all deposits of up to 100,000 euros. Those with larger balances however might have to wait years to get all their money back.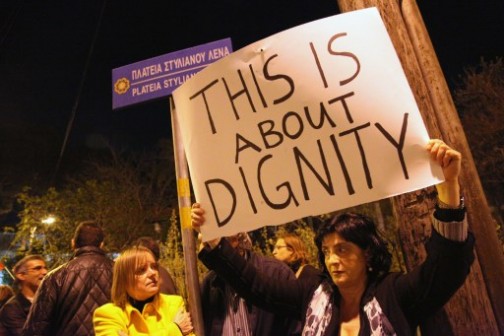 Neophytou said the plan would also secure some 8,000 jobs in Popular Bank, although a few hundred might be lost through restructuring.
Friday's emergency session came after angry bank employees, fearful for their jobs, demonstrated outside parliament as rows of riot police lined up behind barriers facing them.
MPs adjourned the session shortly before midnight with no time set to resume debate on the rest of the government's package. It is aimed at raising 5.8 billion euros ($7.47 billion) to unlock loans worth 10 billion euros.
German Chancellor Angela Merkel warned Cyprus against "exhausting the patience of eurozone partners" at a meeting Friday with the parliamentary group of her junior Free Democratic Party coalition partners, participants told AFP.
Some EU sources have said the bloc is ready to eject Cyprus from the eurozone to prevent contagion of other debt-hit members such as Greece, Spain and Italy.
While bank employees demonstrated Friday in favour of pushing through a levy on deposits, other protesters vehemently oppose the measure.