Pope Francis flew in for an unprecedented encounter with his predecessor Benedict XVI at the papal residence of Castel Gandolfo near Rome — a first in Catholic Church history.
Both men were in the white vestments reserved for popes as Benedict has been allowed to continue wearing his papal robes even after his resignation and is still addressed as "Your Holiness".
Benedict came to greet him and Vatican spokesman Federico Lombardi pointed out that in the car Francis sat on the right — "the classic place for the pope" — while Benedict sat on the left.
In the palace chapel, Lombardi said Benedict had offered Francis the place reserved for popes but that the pontiff had turned it down saying "We are brothers." They ended up kneeling side by side.
The talks round off a historic few weeks at the Vatican after Benedict became the first pope to resign in over 700 years and only the second to do so by choice in 2,000 years of Church history.
The last pope to resign — Celestine V in 1294 — was locked up and perhaps killed off by his successor Boniface VIII. There is no record of the two ever meeting post-resignation.
Cardinals in a conclave last week elected Francis — Latin America's first pontiff and the first non-European pontiff in nearly 1,300 years.
The Vatican said Benedict followed television news coverage of Francis's election from Castel Gandolfo.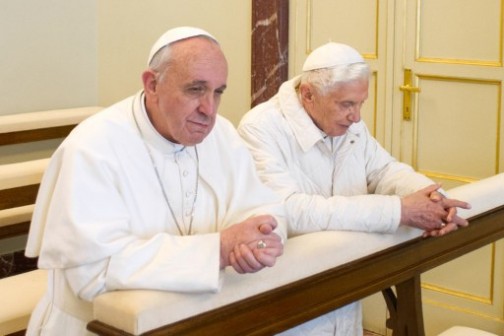 Saturday's talks were private and very little is likely to emerge about their content — with any number of urgent issues for a troubled Roman Catholic Church possibly on the agenda.
The two leaders of the world's 1.2 billion Catholics are both preoccupied with issues ranging from rising secularism in Western countries to the reform of Vatican bureaucracy to the ongoing scandal over the sexual abuse of children by clerics.
The two men — Francis is 76 and Benedict is 85 — have very different styles but important core similarities on matters of doctrine and ways forward for the Church after Benedict's often difficult eight-year pontificate.
Francis has paid homage to Benedict and has called him twice since becoming pope.