Governor Godswill Akpabio of Nigeria's Akwa Ibom State on Sunday in Uyo gave the Super Eagles N37.5 million for winning the 2013 Africa Nations Cup in South Africa.
The team's Chief Coach, Stephen Keshi got two million Naira from the money, while the team's 23 players got one million Naira each.
Also, the team's four assistant coaches received one million Naira each while 17 other team officials got N500,000 each.
However, one of the players, goalkeeper Vincent Enyeama who is an indigene of the Akwa Ibom, was given a three-bedroom flat in addition.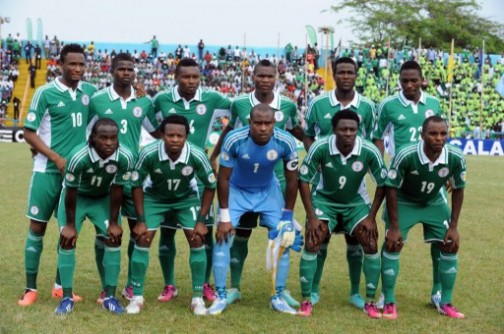 Enyeama, who is the team's first-choice goalkeeper and stand-in team captain, will have the apartment at the Housing Estate at Idu in the state's Uruan Local Government Area.
Akpabio, while speaking, was full of praises for the Super Eagles.
"We celebrate you, you are the icons. We prayed for you. You are the future of this country.
"We hardly see anything to celebrate. That's why when you did the miracle you did in South Africa, you brought back the Nigerian spirit,'' he said.
Akpabio advised the footballers to shun drugs and drunkenness in order to be relevant in the scheme of things in the future.
"'Now that God has given you a coach, you have to respect him and be disciplined. Without discipline, you cannot be successful,'' he told the players.
The governor also urged them to hold unto God and call on him always.
"It is not a tragedy when a nonentity becomes a failure. But it is a tragedy when a potentially achieving, young man becomes a failure on account of character flaw.
"Your victory becomes a turning point in the nation. Federal Government's transformation policy cannot be complete if the youths are not transformed,'' he said.
Akpabio also assured the Nigeria Football Association (NFA) of his government's support in the quest for Nigeria to qualify for the 2014 World Cup.
Earlier, the NFA Chairman, Alhaji Aminu Maigari, had thanked Akpabio for always supporting the team and urged him to continue in his good work of promoting football development.
He urged the governor to hasten work on the state's Olympic-size stadium, saying the Super Eagles were eager to play on the turf.
The News Agency of Nigeria (NAN) recalls that the Eagles had on Feb. 10 in Johannesburg lifted the 2013 AFCON trophy after a 1-0 win over Burkina Faso in the final match.(NAN)