The Central African Republic's new strongman, Michel Am-Nondokro Djotodia, announced Monday that he was suspending the constitution and dissolving parliament, a day after seizing the capital and forcing President Francois Bozize into exile.
"I consider it necessary to suspend the November 27, 2004 constitution, to dissolve parliament as well as the government. During that transition period which will lead us to free, credible and transparent elections, I will legislate by decree," the rebel leader told reporters.
Djotodia is said to be a single-minded former civil servant who spent many years in the former Soviet Union.
The enigmatic Djotodia, head of the Seleka rebel coalition, has promised to hold elections in three years.
He is aged around 60 but his precise date of birth is unknown and details of his life are sketchy.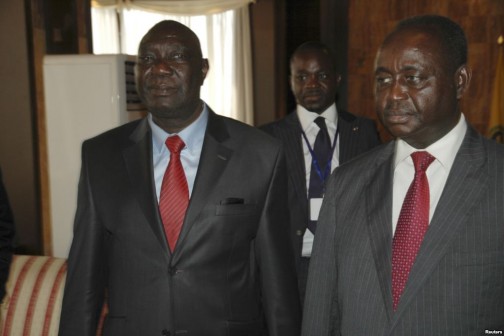 After several years as a civil servant and diplomat he turned to rebellion and founded an armed movement in 2005, two years after ousted president Francois Bozize seized power in a coup.
"He's somebody very determined. When he decides on something, he goes all the way. When he gives his word, he keeps it," said a rebel in the Seleka coalition who has been with Djotodia for many years, but asked not to be named.
"On the other hand, this quality is also his weakness. He can be rigid and often refuses to accept being contradicted when he has made a decision," the rebel added.
Born in the Vakaga region if the north of the Central African Republic, Michel Am-Nondroko Djotodia underwent training in the Communist school of centralised economic planning when he lived in the then USSR for 14 years.
On his return, he served in the ministry of planning before going to the foreign ministry, where he was named consul to Nyala in neighbouring South Sudan, which was then an insurgent part of Sudan before independence.
In 2005, Djotodia joined the rebellion against Bozize, an army general who seized power in a coup in 2003.
He became a founder member of the Union of Democratic Forces for Unity (UFDR), which merged several small groups and marked the start of the emergence of many rebel forces.
But two years later, Djotodia went to Benin to join forces with Abakar Sabone, head of the Movement of Centrafrican Liberators for Justice (MLCJ), a group that had signed peace accords with Bozize.
Arrested by the Benin authorities at the behest of Bozize's regime, Djotodia spent several weeks in prison.
While abroad, Djotodia lost control of the UFDR to Damane Zakaria, who also signed peace accords with the Bozize regime.
By 2012 and back home, however, Djotodia succeeded in rallying his former supporters and helped found Seleka — which means "alliance" — in June.
Members of Seleka, which first launched an offensive in December before signing up to a peace deal with Bozize's government in January, proved themselves to be masters of strategy and communications.
The rebels — with Djotodia himself wearing camouflage battledress — attended the peace talks in the Gabonese capital Libreville in a position of strength after seizing a string of towns, chasing away poorly trained and equipped government troops without a fight.
The accord gave some Seleka members government posts, but the regime failed to free people the rebels regarded as political prisoners, provoking the latest offensive.
Djotodia has said he will keep his word and respect the Libreville accords, which did not provide for a presidential election until 2016, the end of Bozize's mandate.
Like Bozize, who was twice elected back into office after his 2003 coup, Djotodia has not ruled out holding on to the presidency by constitutional means.
"I did not say that in three years I will hand over power," he told Radio France Internationale. "I said that in three years, we are going to organise free and transparent elections."