Zambia's ex-leader Rupiah Banda was arrested Monday  in Lusaka and charged with abuse of authority over an oil deal struck with Nigeria' s state firm, Nigerian National Petroleum Corporation (NNPC), while he was in power, an investigator said.
"President Rupiah Banda has been formally charged and arrested in connection with the procurement of oil which did not benefit the country," Namukolo Kasumpa, a spokeswoman for government investigators, told reporters.
He was immediately freed on bail and is due to appear in court on Tuesday.
The arrest came after parliament earlier this month lifted Banda's immunity. The former leader who ruled Zambia between 2008 and 2011 was promptly questioned about allegations of corruption, money laundering and fraud.
He lost power in an election to the current President Michael Sata.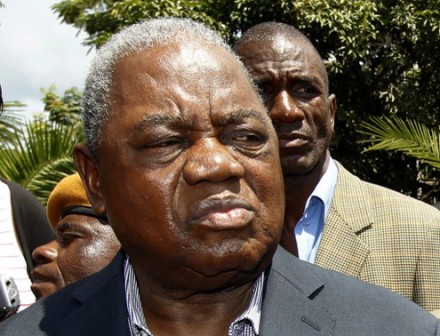 Banda's lawyers claim the accusations are part of a ploy by Sata to silence opposition.
"The charge is extremely vague and our only defence is the truth, he is innocent and the truth will been known," said Banda's lawyer Sakwiba Sikota.
"We will see the kind of witnesses that they are going to bring but we know he is innocent," he said.
Appearing exhausted after three hours of questioning by a special government probe unit, 76-year-old Banda told reporters: "Naturally I would have been happy to be sitting at home but I have to go through this."
Sata's government says Banda engaged in corrupt activities in the procurement of crude oil from a Nigerian firm, listed as the Nigerian National Oil Company in official documents. Nigeria's state oil outfit is known as the Nigerian National Petroleum Corporation (NNPC).
He is also accused of funnelling taxpayer cash into his election campaigns.
Since Sata came to power he has rolled out an anti-corruption drive that some have seen as a move to silence dissenting views.
Banda's lawyers last week petitioned the regional South African Development Community (SADC) over the "unlawful and inhumane events" taking place in Zambia.
"After being honoured as an esteemed statesman… Banda has been made the target of a vicious, cruel and unrelenting campaign of defamation," the lawyers wrote in an open letter last week.
They asked the regional bloc to "observe very closely the behaviour of the (ruling) PF government in coming days and weeks to see evidence of their malicious intentions".