The Movement for the Emancipation of the Niger Delta, MEND, has rejected the 24-year jail term passed Tuesday on Henry Okah, the leader of the militant group, by Justice Neels Claaseen of the South Gauteng High Court in South Africa.
MEND in a statement signed by Comrade Azizi warned that hell would be let loose if the verdict is allowed to stand.
According to the group, "Boko Haram has killed more innocent Nigerians than any other militant group in the country and yet their spokesperson was handed a three-year sentence. This is the height of injustice to our region and people which will be resisted by all means necessary.
"Consultations are ongoing with some stakeholders and elders of the region while our position will be made known thereafter.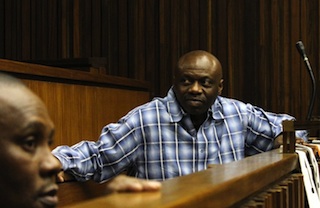 The gate of hell has just been let loose."
Okah was jailed Tuesday by South African court for 24 years after he was convicted of 13 terrorism charges over twin bombings in Abuja on 1 October, 2010.
"Effectively, the accused Okah is therefore sentenced to 24 years imprisonment," said Judge Neels Claassen.
Twelve people were killed in the bomb attacks in the Nigerian capital as the country was celebrating the 50th anniversary of its independence.
The state argued that Okah showed little remorse during the trial, and that his intentions in the bombings were to "obtain maximum casualties."
MEND, which in 2010 was a well-equipped armed group fighting for a greater share of the Delta oil wealth, claimed responsibility for the attacks.
Okah, who has permanent residency in South Africa, has denied any involvement in the bombings, claiming the charges against him were politically motivated.
He was also found guilty of terrorism charges related to two explosions in March 2010 in the southern Nigerian city of Warri, a major hub in the oil-rich Delta region.