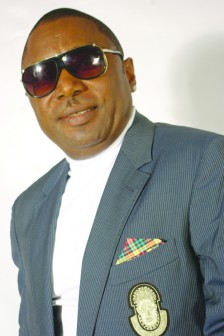 Juju music star, Wale Thompson, has hit the shelves with his fifth album, No Rival. The album, co-marketed by Abiodun Oropo Records and Godfather Music Promotions, was released this morning.
The album is produced by Laolu Akins and Buddy White, two ace music producers who are behind many evergreen songs.
Tracks in the album include; Morning Till Night, Back in the Groove, Everybody Loves Wale Thompson, Mapolongo Jesu and Iba Fun Jehovah.
Wale Thompson, popularly known as Mr. Lalale Friday, said No Rival is designed to surpass the achievements of his previous efforts. He already has four albums to his credit; My Time, Hip Juju, My Logo and Play On, which features one of his evergreen cuts, Old Skool.
"My last album was released in 2004. So, intentionally, I decided to take my time in order to continue leading the pace. As a musician that a lot of people look up to, you can't afford to slip; you meet the people's expectations regularly, and even surpass them as the case may be," Thompson said.
He further said that No Rival is more than a comeback album. "I have worked very hard on it. I did some research and experimented with various music studios in Nigeria and abroad before recording the album. I know it will help re-launch my career to greater heights. My music will rule the world again."
By Bayo Adetu