Nigeria's Flying Eagles made amend for missing out on defending their title by beating Mali 2-1 to finish with bronze at the 2013 Orange CAF U-20 Championship.
By reaching the semi-finals both teams qualified for FIFA U-20 World Cup and for the greater part of the match, John obuh's team cantered their way through the stages with odd flashes of constructive football here and there during a match played at Ahmed Zabana stadium in Oran Friday.
Cafonline.com reports that a brace from striker Aminu Umar ensured that it was the Flying Eagles and not The Eaglets who claimed third spot in the competition. Mali scored a late goal on 87th minute through Tiekoro Keita to make it an interesting end but it was Nigeria's night.
It was an Adama Niane goal that won it for Mali the last time these two sides met in the group stage and the same striker had the first meaningful chance of the game with a header from a corner kick.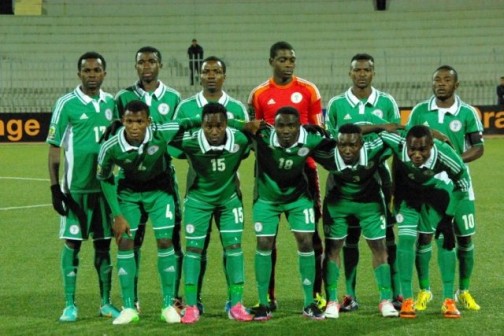 The Nigerian defenders manage to scrabble if off the goal line. Nigeria then went to the other end of the pitch and good interchange play between Chidi Osuchukwu and Abdullahi Shehu released Abduljeleel Ajagun who shot was on target but well saved by Ali Yirango in goal for Mali.
Perhaps the best action in the first half came in the 40th minute from impressive Abdoulaye Keita who picked up striker Hamidou Traore with a delightful 40m long ball into the box. Traore took it down well with his right foot before shooting with the other only to see Nigerian goalkeeper, Jonah Usman beat away the shot. Keita was not finished and delighted the crowd a minute later when he ran past his marker before letting a rocket of a shot that again needed Usman at his best to prevent Mali taking the lead.
In the 72nd minute, an intelligent cut back from a free kick picked up Ajagun on the edge of box, while everyone was expecting a cross. Ajagun's well taken shot was blocked on goal line but Aminu Umar reacted quickest to stab home the opening goal of the match. Boasted by the goal, Nigeria were in ascendancy and on 82nd minute Umar scored his and Nigeria's second from the penalty spot.
Umar who was fouled by Boubacar Diarra as he jumped for a high ball in the box. The striker picked himself up and sent Yirango the wrong way but Mali refused to lie down and mounted a late charge.
On 87th minute winger Tiekoro Keita scored after keeper Usman had spilt a shot. Mali were in a hurry to get an equaliser and this almost came a minute from the end when pressure on Nigeria goal left Hamidou Traore with a chance to score but he hurried his attempt and it sailed over the bar and Nigeria then hung on to finish third