Liberian football legend, George Weah, has confirmed that his 13-year old son, Timothy is undergoing a trial at his former club, Chelsea of London.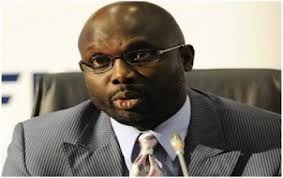 The former Ballon d'or and African footballer of the year award winner, had a short spell at the English Premier League club, in 2000, and was part of the squad that won the English FA Cup that year.
"He is talented. We just wanted to give him the opportunity and we also want him to enjoy the game he has passion for so I brought him to Chelsea just for a trial and for a different experience," Weah told Keys & Gray.
"When I left London, I kept ties with Chelsea and when my son wanted to come to England to play, the first person I called was my daddy, Gary Staker [the club's liaison officer]," the former AC Milan player said.
"Gary made it happen and Timothy is enjoying it. He has started training already and he is happy."