Pope Francis in his first Easter Sunday celebration appealed to the Boko Haram militants in Nigeria to free the hostages in their custody. Among the hostages was a French family of seven people, including the family head, Tanguy Moulin-Fournier. They had gone to visit a park in Northern Cameroon last month, when they were abducted and brought to Nigeria by Boko Haram militants.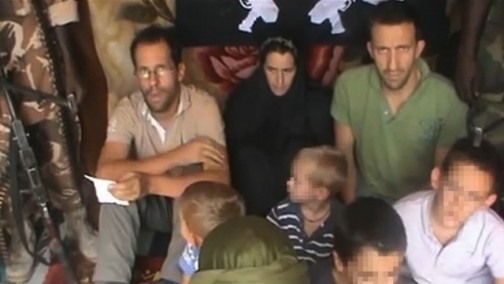 Pope Francis also prayed for a "political solution" in Syria and for "reconciliation" on the Korean peninsula in his first Easter Sunday message in front of a crowd in St Peter's Square. The Pope similarly condemned human trafficking as "the most extensive form of slavery in this 21st century".
The pope delivered his "Urbi et Orbi" blessing to Rome and the world from the same balcony of St Peter's Basilica where he made his first appearance after his momentous election to the papacy this month.
Speaking in front of some 250,000 people from around the world in the Vatican, Francis prayed for "dear Syria, for its people torn by conflict and for the many refugees who await help and comfort.
"How much blood has been shed! And how much suffering must there still be before a political solution to the crisis will be found?" he said.
"On the Korean peninsula, may disagreements be overcome and a renewed spirit of reconciliation grow," he said, a day after North Korea declared it was in a "state of war" with South Korea.
Francis also prayed for Nigeria "where great numbers of people, including children, are held hostage by terrorist groups" — an apparent reference to a French family kidnapped in Cameroon and believed held by the Nigerian group Boko Haram.
The pope also toured St Peter's Square in his open-top "popemobile" — kissing babies and waving to cheering crowds who held up flags from around the world including his native Argentina.
Easter is the holiest day in the Christian calendar and celebrates the belief in Jesus Christ's death and resurrection. It is the culmination of weeks of intense prayer for Christians.
At an Easter Vigil in St Peter's Basilica on Saturday, the first pontiff from outside Europe in nearly 1,300 years of Church history reached out to non-believers and lapsed Catholics, urging them to "step forward" to God.
"He will receive you with open arms," said the 76-year-old, formerly Buenos Aires archbishop Jorge Bergoglio.
The Catholic Church is struggling in the face of rising secularism, particularly in Europe where attendances at Mass are falling sharply.
On Sunday, Francis prayed God's message would reach "every house and every family, especially where the suffering is greatest, in hospitals, in prisons."
"How many deserts, even today, do human beings need to cross! Above all, the desert within, when we have no love for God or neighbour," he said.
The Latin Patriarch of Jerusalem on Sunday invited the pope and the world's Christians to visit the Holy City, which he called the birthplace of "everything Christian."
"Our new evangelisation, in order to be up-to-date and effective, must start out again from Jerusalem, start out from the first Christian community," Fuad Twal, the senior Roman Catholic cleric in the Holy Land, said in his Easter homily.
In his first Easter sermon as Archbishop of Canterbury, who leads the world's 80 million Anglicans, Justin Welby warned against "pinning hopes on individuals" to solve all of society's problems.
A "hero leader culture" in which all trust was placed in one person only led to false hope, he told worshippers at Canterbury Cathedral.