Special Assistant to the wife of Nigeria's President Goodluck Jonathan has debunked rumours on her state of health.
Ayo Osinlu, the Special Assistant (Media), said that she is not ill. Mrs. Jonathan was conspicuously missing at the Good Friday service held in Aso Rock, fueling speculations about her whereabouts.
In a statement on Monday, Osinlu said:"Our attention has been attracted to speculations in the media about the movement of the First Lady, Dame Patience Jonathan recently.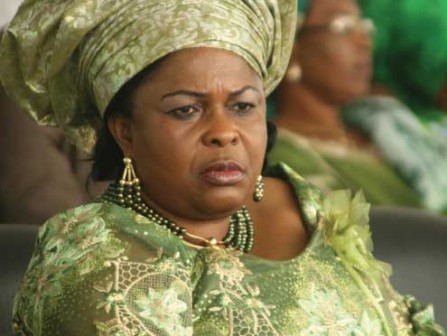 "For the avoidance of doubts and ambiguities, I wish to state that Her Excellency had travelled to participate in the 1st Green Women Conference in Paris, France, on March 17, where she received the Global Women Leaders' Award for Peace, 2013."
According to the statement, the president's wife, after the conference, travelled to Germany to visit her foster mother and children.
"Thereafter, the First Lady called on `Mama Sisi' who is currently receiving medical attention. It was in her normal plan to spend some time overseeing the management of the foster mother's condition. The First Lady also seized the opportunity to spend some time in the company of Mama's children before they return to school.
"Dame Patience Jonathan is expected in the country next week," the statement said.
Osinlu expressed appreciation to those who had shown "genuine concern through their enquiries".