It was fanfare on Monday as the Lagos State Government staged a colourful carnival to celebrate Easter.
The event, held at the Tafawa Balewa Square, TBS, Lagos Island, Lagos, southwest Nigeria, was witnessed by over 20,000 Lagosians and tourists from across the world, while the rich cultural heritage of Lagos was showcased at the event.
The carnival was part of the week-long Lagos Heritage Week, which featured boat regatta, black heritage festival, among others.
The carnival was the grand finale of the one week event and fun seekers were thrilled beyond measure.
The TBS was simply a place to be with colourfully dressed girls and women thrilling the horde of fun seekers at the event.
The various carnival routes in Lagos island, Victoria Island and Ikoyi axis were alive as early as 8 am with beautifully clad dancers who wriggled their waist and moved to the beat of  different songs from a live mobile band as they weaved through the  streets.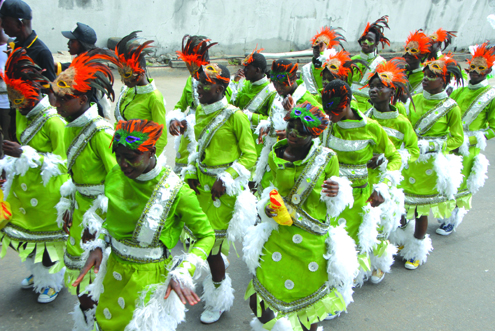 A large music band strategically located at the centre of the stage, provided the background music as the carnival contingents danced round the square before a team of selected judges and fun seekers rated their performance.
Governor Babatunde Fashola was the chief host at the event and he described what he saw as splendid, saying the annual event was getting bigger and better, adding that a collaborative effort of the private sector was needed to keep it running.
According to him, the event had significant economic impact on the lives of the citizens as all the costumes used were locally produced by the students of the state skill acquisition centre, disclosing that hotels were filled up and businesses recorded higher sales and  that the tradition of the carnival meant a lot to residents.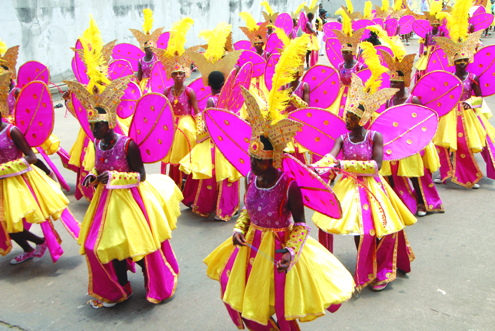 Fashola stated that the state had achieved a global calendar that now made it the choice destination for tourists during Easter.
Also, the Chairman of the Junior Carnival, Mrs Aduke Gomez said the event was simply fantastic and provided opportunity for the young ones to get involved in the economic development of the state.
"We have schools from all over the six divisions of the state participating. We have over 30 schools as far as Epe and Badagry. We believe they are all here to share in the heritage of Lagos State. The Carnival is not new in the country, because we have been doing carnival since 1860 and it is an opportunity to share our heritage with Lagosians and the world.
"I think you can see the great economic opportunities around the carnival venue. All the costumes are made here in the Lagos State skill acquisition centres. I think this year is more fantastic compared to that of last year. The costumes I am wearing symbolise such a joyful exposition of colours," she said.
—Kazeem Ugbodaga

Load more